Are you looking for new and fresh ideas to bring your virtual training sessions to a new level? Congratulations! You have come to the right place.
With the industry changing daily, it is not easy to keep up with recent updates and use new techniques to keep your learners interested and engaged.
This is why we will present best-practice ideas to help you in your virtual training journey!
Hold tight as we are starting!
What makes virtual training engaging?
Before considering how to make the virtual training engaging, let's first understand what makes your training stand out.
In order to find out where you should make improvements put yourself in your students' shoes.
Would you like to have long training sessions where you were just a passive listener? Regardless of how shy the students are, they want to participate actively in the virtual training session. Especially when their opinion is valued and appreciated, and they feel included.
For an engaging virtual learning experience, focus on the students' behavioral, cognitive & emotional engagement. Make sure to involve them fully in the process to create a more engaging and exciting learning experience.
You can incorporate gamification techniques and quizzes. These will greatly improve the interactivity level in virtual classrooms.
Why is it important?
The term "engaging virtual training" has started to be used more and more in educational contexts. But why is it essential to keep the learners engaged throughout the session? Below you can find the main reasons why.
Ability to retain information better. Using engaging training activities

helps students learn more efficiently. When the learning material is introduced via new and interesting methods, students are more likely to pay attention to what is being explained. This way, they will also be able to remember better.

Spark of motivation. When learners are disengaged, they may lose interest in training. Engaging activities will foster the desire to learn and keep learners motivated. As a result, students will be actively involved in the learning experience.
A sense of community. Engaging training methods facilitate collaboration and communication among learners. They also help them feel connected and supported in their learning journey.

Active learning experience. Engagement also creates a dynamic eLearning experience. It helps to get learners out of their comfort zones and build self-confidence.
Eventually, this can lead to better learning outcomes and a more productive training process.
How to engage the learners more
Now, let's break down some techniques to make students engaged and involved.
Icebreakers
Virtual icebreakers are an excellent way to involve learners in the learning process. Icebreakers are designed to facilitate interaction in a virtual setting.
One of the common types of virtual icebreakers is an introduction. Introduction activities will work perfectly, especially if the students get to know each other for the first time. Have students introduce themselves to the group by mentioning a fun fact about them. Alternatively, you can ask other students to reproduce their peers' words and check how many answers they remember.
You can also use trivia games as a team-building virtual training activity.
Brainstorming
Brainstorming activities are good for engagement building and fostering critical thinking and creativity. Such techniques are perfect for solving problems that may arise during the training. Idea-generating activities can be beneficial to your training in many ways.
They encourage participation and collaboration and create a sense of teamwork.

Create a more interactive virtual training environment

Help identify possible challenges in the training process

Generate different perspectives that lead to comprehensive solutions
To conduct brainstorming activities, you can use virtual whiteboards. They will aid in sharing and collaborating ideas in real time over the internet.
Q&As
It is beyond doubt that Q&A sessions play a crucial role when conducting virtual training. They provide an opportunity for every learner to share their perspective and experience. Q&As lead to meaningful discussions. Thus, bringing engagement and interactivity into the virtual classroom setting.
To enhance interactivity, make sure all students take part in it. By doing so, you will also be able to clarify any confusion or misunderstanding they might have. Q&A sessions may be held not only in oral but also in written form using question-and-answer tools.
Friendly competitions
If you don't want your learners to hide behind the screens with their cameras off, friendly competitions are what you need. These activities help learners to keep their interest in training, get involved, and learn from their peers.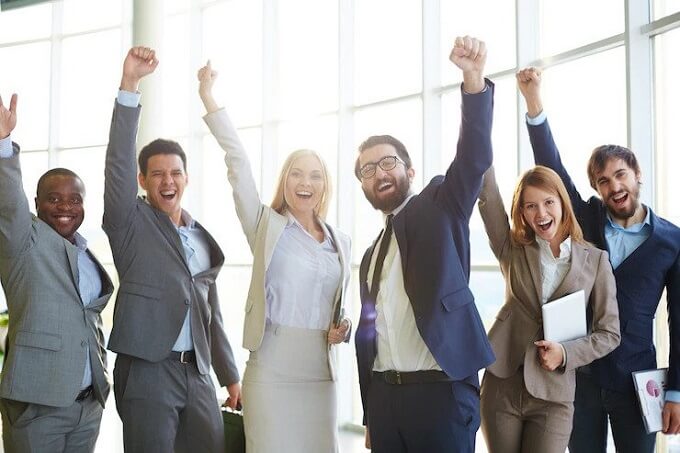 Overall friendly competitions help to:
Enhance motivation and engagement

Foster creative thinking, problem-solving, and teamwork skills

An excellent way to create an enjoyable virtual learning environment.
Some example activities are quizzes, quests, trivia & challenging games.
Chatrooms
Another way to liven up the training is a chatroom. You can use Chatrooms in icebreaker activities. E.g., brainstorming, gamification, and Q&A sessions. These will help you to facilitate discussions and thus bring interactivity into the training session.
So take hold of this opportunity. You can create mini-tasks and let your students discuss the topic. Afterward, they can share insights through the chatroom as a means of collaboration.
Guest trainers
Looking for an efficient way to spice up your training? Have your peers attend the training and see many smiling faces eager to participate in discussions. The new trainer can provide a different perspective and expertise, which will benefit your students. All you have to do is encourage the students to ask questions and participate in discussions. The sessions would be maximized as learners are exposed to a variety of new teaching methods and learning approaches. So they will feel more interested and engaged.
Besides, having a guest trainer will break the monotony of daily sessions and add a pinch of freshness to your sessions.
All the steps mentioned above will work as long as you ensure students can fully participate and benefit from the session.
How to improve the learning experience
Do you want to have students who get the maximum out of the sessions and are fully engaged? Then consider what you can do to improve their learning experience. Let's see how to achieve it.
Keep the presentation short
Everyone likes long and boring sessions. And surely you will disagree with the previous statement.
One of the primary reasons you should make your presentations short is that the attention span will only last for a while. This means that you will have to ensure participants pay attention. For this reason, ensure that your learners have something to add up to every 7-10 minutes. Besides, short presentations are also easier to remember, which improves knowledge retention rates.
To make the presentations more effective, use different media formats. Try to incorporate various learning styles to meet every student's learning needs.
Record the lessons
Recording lessons will be helpful for students with busy schedules. Also, it will benefit those who have difficulty attending classes in a live format. This way, the students can keep up with their peers and learn the material at their own pace.
Recording the lesson will also benefit the students who need additional assessment or revision of the material. As a virtual trainer, recording will help you out later on. It will allow you to check how the training went and analyze details about it, to make further improvements.
Additionally, it can simply make your training more accessible.
Communicate with the students
Regardless of which environment we are in, communication is always the key. Open discussions and communications will better identify your learners' needs and desires. They also help to find out more about their interests and expectations.
Proper communication techniques will allow clarifying any misunderstanding or questions about the topic. It will allow you to give feedback on the student's performance, thus pointing to their strengths and weaknesses.
Effective communication will help to create a supportive learning environment. By feeling included, the learners will be more motivated. Thus, they will participate actively in the learning process.
All these steps lead to improved learning outcomes.
Constantly ask for feedback
Of course, how would you know where your strengths and weakness lie if you don't ask for feedback? As a virtual teacher, you are usually one to provide it. However, asking for feedback is one of the best ways to create a more positive learning experience.
Your students will feel highly appreciated as they are given a chance to make suggestions or voice any possible concerns. If you aim to improve teaching performance or make training more effective, consider creating a virtual survey. Some basic questions may include:
What was the one thing you found challenging during the training?

Which additional materials may be included in the training?

What did you find most helpful about the training?

How would you rate the usefulness of learning materials on a scale of 1 to 5?
These kinds of questions may help to find out areas that need improvement.
Use the right software
You already chose the niche and made every preparation to create content for the course. Now it's time to move to another crucial part of the virtual training business. And by this, we mean using the right software. Choosing software that best meets your needs will save you lots of time. It also will provide a much more efficient learning experience for your students.
Here are some basic features to look for while choosing software:
Course creation and management tools. They will help you to upload your courses easily and organize the course materials.
User-friendly interface. Your software should be easy to navigate. This will make it easy for learners to access and customize.
Mobile Accessibility. This will allow you to reach a wider audience. Plus, learners will be able to access the materials anytime and anywhere.
Virtual classrooms. This will allow students to participate in live sessions & video conferences.
Technical support so you can easily solve any issues that may arise while using the platform.

And many more…
Bring your training to life
As you might have already guessed, getting started with the right virtual training software is the primary way to bring your training to life. There are different types of software to choose from, one of the best, according to user reviews, is Uteach.
It could be a great place to start if you are looking for a cost-effective option. Uteach possesses many features ranging from a website builder to a mobile app. All of them are designed to make the training delivery process more accessible and effortless.
Uteach also offers time-saving features and the perfect opportunity to provide your students with a personalized and complete learning experience.
Don't hesitate to start now. Students from all around the world are waiting for you.