Mobile apps are gradually taking over the eLearning industry. Mobile LMS allows students to access materials anywhere and learn on the go. 
Throughout this article, we will cover everything related to Mobile LMS, including its benefits and platforms allowing you to provide your students with laptop and mobile learning experiences. 
What is LMS?
LMS stands for learning management system. These systems allow instructors, course creators, trainers, and coaches to efficiently host online training sessions. It helps users to save time on various tasks. They take website and course building to a whole other level, making it easy to use yet offering a variety of features that will allow you to rank, gain visibility and drive sales. 
How to host it on mobile?
Certain LMS platforms also come in handy with mobile apps. Thus allowing you to provide mobile learning experiences for your students. So, to provide mobile learning, you must look through LMS platforms that offer a mobile app.
Let's move on to the best mobile lms that allow you to provide excellent mobile experiences.   
The best mobile LMS enables students to access course materials, engage in learning activities, and track their progress anytime, anywhere. Let's dive into the world of mobile LMS and discover the best mobile LMS that excels in delivering exceptional learning experiences on mobile devices.
#1 Uteach
Uteach is a patent LMS automation offering a powerful mobile app to enhance students' learning experiences. As a powerful platform, Uteach offers a wide range of features and functionalities. That enables educators to build their own customized websites. Also, you can establish a unique online presence and create an attractive interface for your audience. 
With its mobile-friendly design, Uteach ensures seamless accessibility from any device. Uteach empowers both educators and learners to teach and learn anytime, anywhere. This innovative LMS provides a comprehensive hosting solution and effortlessly reaches unlimited learners. Moreover, it offers opportunities for monetizing skills through the creation and sale of online video courses. Embrace the power of Uteach mobile LMS, unlock your potential, and embark on a journey toward becoming a successful online educator in the mobile era.
The platform has many useful features that allow instructors and students to get the most out of online learning. 
Uteach Features
The main features of Uteach include the following:
Drag & drop website & course builder. Builders are highly customizable, easy to use, and do not require additional coding skills. 

A mobile app that is easy to navigate through and available both for IOS & Android

Automation features such as attendance checking, messaging, emails, assignments, etc. 

Engagement tools to create quizzes and certificates to keep students motivated 

Powerful analytics & reporting to keep track of student's progress and performance of your products/services 

Marketing features including CRM & Emails, coupons & discounts, built-in SEO, etc. 

Affiliate program to drive more sales and enhance the marketing of your products & services 

Allows to sell bundles & memberships 

Allows to sell both physical and digital eLearning-related products 

Offers local payment gateway.
And these are not the only features. There are many more. It is worth highlighting that the platform works seamlessly fast and ensures high quality. So, consider Uteach when choosing a platform allowing you to provide a mobile learning experience. 
Uteach Review
According to users' reviews, Uteach mobile LMS has 4.8 stars on Capterra. Now we are going to provide users reviews about Uteach mobile LMS.
Uteach is a highly efficient LMS software that simplifies course creation and publishing.
The tool's structured framework and content population feature make editing and publishing easy. Reviewer highlights Uteach's user-friendly nature, versatility, and template availability. The exceptional support team promptly addresses queries. 
The reviewer expresses gratitude for outstanding support and labels Uteach as an amazing e-course creation product.
Uteach simplifies the creation and publishing of unique courses with minimal effort.

The platform offers easy-to-use templates and a versatile interface.

The support team is highly responsive and helpful.

Uteach is expected to aid in business growth by creating customer-centric content and products.

The reviewer considers Uteach as an excellent solution for their e-course creation needs.
Uteach has 4.6 stars on Trustpilot. Users highly recommend Uteach as one of the best mobile LMS. 
The other user mentioned Uteach is an affordable alternative to Teachable and offers a mobile app. He finds Uteach intuitive and praises its unique application. 
The top-notch course publishing technology 

Access to all aspects of the course
Check the mobile app on the App Store 
Check the mobile app on Goole Play
#2 Moodle
Moodle is the other mobile LMS. It is a robust and secure learning platform that enables educators and administrators.
Now, compared to Uteach and a few other platforms, it is limited in functionality in terms of customization and flexibility. However, consider this platform if you want a quick way to provide courses for your students. 
Moodle Features
The main features of Moodle are:
Mobile-friendly design that is responsive for all screen sizes. So, students can access apps through mobile and a website on their phones while enjoying responsive design. 

Multi-device support. Moodle's app is available for IOS and Android users and works smoothly & seamlessly. 

Offline learning support. Even if students do not have a Wi-Fi connection or mobile internet, they can access the learning materials on Moodle offline through the app. 

Course management features. Moodle offers instructors & creators lots of course management features. These allow you to organize content, add resources, quizzes, certifications, etc. 

Grading features include course history, grade book, audit trail, comments, manual grading, and multiple grading scales. 

Customization tools such as mobile learning support and personalized views. 

Collaboration and gamification tools, including badge customization, levels, leaderboards, discussion forums, messaging, and blogs. 

Reports & analytics

Allows to assign different user roles and create team hierarchies

Powerful security features. 
So, its range of features will allow students and instructors to benefit from mobile learning. 
Moodle Review
Moodle has 4.3 stars on Capterra. Let's find out users' ideas about Moodle.
Moodle is a praised LMS platform used by the reviewer's college, bringing satisfaction to both the institution and learners. It provides easy management of online courses and studies, along with professional exams. The functionality developed by the Moodle team contributes to delivering quality education. It's very easy for students or learners to learn from their mobile phone. 
Moodle is an open-source and highly regarded LMS system.

Moodle ensures security and privacy despite being open-source.

It has good customer support.
However, Moodle doesn't have that many good reviews on Trustpilot and it has average 2.5 stars there.
Here we can see two different ideas, one complaining about its new update. On the other hand, Luz says, "Moodle is easy to use and has various features. 
Easy to use

Many features

Moodle's new update is not user-friendly.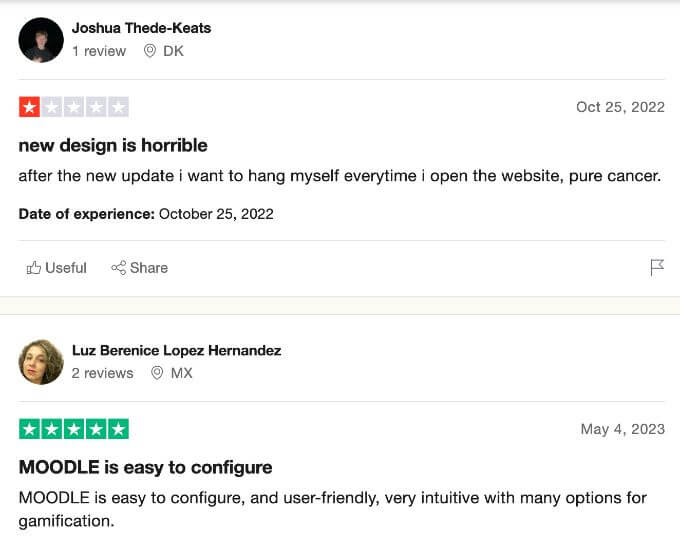 Check the mobile app on the App Store 
Check the mobile app on Goole Play   
 
#3 TalentLMS
TalentLMS is a cloud-based learning management system allowing instructors and creators to provide learners with top-notch mobile LMS. That provides a customizable and user-friendly experience for teams. The platform supports continuous training with dedicated customer support. 
TalentLMS Features
Let's review the main features that come in handy with TalentLMS. 
Content creation & management tools 

User management tools

Powerful customization options that allow for branding, website building, gamification, and the creation of interactive learning experiences 

Allows to create assessments including assignments, quizzes, tests

Reports & tracking system to track students' progress as well as the performance of your course materials

Various collaboration tools allow students to enjoy the collaborative learning experience and contribute to high knowledge retention rates.

Mobile LMS app 
All the features the platform offers aim to enhance the experiences of both trainers and learners. It is a good platform in terms of flexibility, customization, and availability to provide your students with a microlearning experience through mobile learning. 
TalentLMS Reviews
TaletLMS has an average has average 4.7 stars on Capterra. We are going to exploreexplor its reviews.
TalentLMS offers a fresh and motivating approach to employee engagement. It is praised for its simplicity, power, reliability, and refreshing design. The platform provides a flexible learning experience with effective customization options.
Mobile-friendly and robust. 

Easy replication of learning objects for different users.

Personalization options for system and course communication.

Its updates may affect third-party integrations, but administrators should be informed and plan accordingly.
TalentLMS has 4.1 stars on Trustpilot, let's find out the resone. 
The reviewer mentions that the admin/teacher view in TalentLMS can be a bit challenging to navigate and use, suggesting room for improvement in terms of user-friendliness. However, they acknowledge the platform's abundance of great features. Also, emphasize its ease of use for learners, which they consider as the most important aspect.
The admin/teacher view could be improved for easier navigation and user-friendliness.

TalentLMS offers a wide range of great features.

The platform is praised for being easy for learners to use.
Check the mobile app on the App Store 
Check the mobile app on Goole Play

#4 eFront
eFront is another mobile app commonly referred to as a Course Management System (CMS),LMS, or Virtual Learning Environment (VLE). 
The platform also offers features sufficient for providing students with an excellent mobile learning experience. 
eFront Features
So, the main features of eFront include: 
The platform's responsive design allows learners and instructors to utilize various devices with different screen sizes and enjoy equally compatible experiences. 

Built-in multi-device support. The app is compatible with operating systems such as IOS & Android. 

Supports offline learning. Thus, the software allows learners to access the learning materials offline without an internet connection. 

Offers a range of interactive content types. It allows instructors to increase engagement levels by offering content. Such as videos, podcasts, interactive PDFs, and quizzes. 

Comes in handy with a variety of gamification features to make the learning experience more modernized 

Supports social learning through discussion forums, chat rooms, and integrations with social media platforms. 
Thus, eFront is another platform worth considering when you are making your final decision. 
eFront Reviews
eFront has 4.5 stars on Capterra. Let's read users' reviews about this mobile LMS.
One of the users says, "eFront an LMS suitable for start-ups and small businesses. The reviewer highlights the platform's role in bringing medical learning to low and middle-income countries with unmet needs.
Mobile app customization can be cost-prohibitive.

Customizable look and feel

Easy to use

Fast support

Rich and clear knowledge article
Check the mobile app on the App Store 
Check the mobile app on Goole Play 
#5 LearnUpon
The next platform on our list is LearnUpon, which is a cloud-based LMS. It caters to learners across employees, customers, and partners. LearnUpon's primary goal is to centralize learning, allowing organizations to support their people worldwide.
The range of features LearnUpon software comes in handy with are perfect for providing good mobile learning experiences for your students. 
LearnUpon Features
The main features of the platform include:
Mobile app with responsive design and good user interface

Offline learning support 

Course creation and user management tools

Powerful reporting suite to measure the effectiveness of the training and coaching programs 

Integrations with a variety of useful tools 

Supports interactive content and gamification. Thus, the platform allows for high levels of student engagement. 

Discussion forums, chat rooms, messaging, and other collaboration tools. 

So, check it out to understand whether or not the platform is good enough for you. 
LearnUpon Reviews
This is the other mobile app in the world of LMS that is highly recommended on Capterra. It has 4.9 stars on Capterra.
LearnUpon LMS is recommended for small to medium businesses experiencing growth. The platform is easy to use and has a relatively low learning curve for administrators. However, the limitations of certain features, such as Learning Pathways, prevented the reviewer from utilizing them effectively. The LearnUpon team provided helpful support in exploring alternative solutions. 
LearnUpon LMS is a great choice for growing small to medium businesses.

User-based pricing offers cost savings compared to other LMS vendors.

The platform is user-friendly and has a low learning curve for administrators.
Check the mobile app on the App Store 
Check the mobile app on Goole Play 
#6 Gurucan
One more platform that you can consider when choosing is Gurucan. Gurucan mobile LMS is a 7-in-one platform for digital businesses. It enables creators to launch online courses and conduct live sessions. The platform offers a simple and user-friendly interface.

Gurucan Features
The key features of the platform optimal for mobile learning include:
Mobile app with a good user interface

Course creation tools with support for interactive content 

Gamification features 

A variety of marketing tools to scale 

Live streaming functionality

Collaborative learning tools take the student's experience even further. 
Take a closer look at the platform by visiting its website. 
Gurucan Reviews
Gurucan has 4.6 stars on Capterra. Let's read its reviews.
Gurucan LMS is packed with great features that make it stand out from other platforms. Noteworthy features include group and one-on-one chats with students and mobile-focused design. However, the reviewer suggests the need for more customization options for the desktop UI/UX to match the excellence of the mobile version.
The platform has a strong focus on mobile usability.

A blog area allows for extra document sharing and news updates.

Built-in email automation tools are included.
Gurucan has 4.6 stars on Trustpilot. You can Gurucan mobile LMS reviews here:
Gurucan is a user-friendly online course platform. It has different features like CRM, email marketing, push notifications, and a coupon system. Gurucan is compatible with desktop and mobile devices. The onboarding process is straightforward, and customer service is excellent. However, it lacks a student feedback/survey feature and supports only YouTube and Vimeo videos. Embedding videos from third-party platforms requires a workaround that works on desktop but not mobile. The setup workflow could be more intuitive.
Excellent customer service.

Lacks a student feedback/survey feature.

The video widget supports only YouTube and Vimeo videos.

Embedding videos from third-party platforms requires a desktop workaround.

The setup workflow could be more intuitive.
Check the mobile app on the App Store 
Check the mobile app on Google Play
#7 Absorb
Finally, the last one on our list today is Absorb. Absorb mobile LMS is an award-winning platform known for its ease of setup. It is a cloud-based LMS that enables companies worldwide to deliver effective training. 
Absorb Features
Absorb is a potent LMS platform that offers all the necessary features allowing you to provide a mobile learning experience for your students. 
Responsive design that easily adapts to any screen size

Offline learning support 

Automation tools, including

push notifications

  

Interface optimized for touchscreen 

Access to multimedia content, including video and audio materials

Variation of tools for better learner engagement 

AI

Content libraries 
All of the platforms mentioned will allow you to provide top-notch mobile learning experiences for your students. Thus, choose the one that fits your and your business's needs to succeed. 
Absorb Reviews
Absorb LMS is a highly user-friendly and customizable learning management system. It integrates well with other systems and offers robust reporting and analytics. The mobile app, gamification features, and scalability are strong points. However, the initial setup process can be time-consuming and challenging. Some users have experienced issues with system stability during use.
User-friendly and customizable platform

Seamless integration with other systems

The challenging and time-consuming initial setup process
Check the mobile app on the App Store
Check the mobile app on Goole Play
Get your hands on Uteach mobile LMS now
Well, it is your time to get started. 
All the platforms are great; however, if you want to get the most features at an affordable price, Uteach is the top choice. It comes in handy with many useful features, including a website & course builder, mobile app, live functionality, local payment gateway, etc. 
Most importantly, Uteach is easy to use both for instructors and students. It ensures high quality, fast loading speed, and good support. So, stop hesitating and start providing up-to-date mobile learning to your students.