Have you ever thought of how cool it would be to monetize your knowledge? 
If you did, then probably the first question that pops out in your mind is, "Where to Start?"
Complicated question, yet it has an easy answer. Start with choosing a platform where you will build your online teaching business. 
How to choose one when there are so many? Well, here we come to the rescue by presenting to your a series of "Vs." articles to ease up your choice. 
So, if you want to discover more, let's dig deeper! 
What are Uteach and Easy LMS?
With the increasing popularity of online learning, developers and teams started producing a number of software platforms to help course creators, educators, and coaches. 
These platforms are Learning Management Systems that are cloud-based and offer unlimited storage opportunities (based on plan). They are meant to provide online educators and e-learning enthusiasts with the tools & features necessary to start teaching businesses without additional coding skills or investments. 
The main heroes featured in today's article are - Uteach and Easy LMS. 
This is a battle between two incredible platforms. Platforms that provide you with all the necessary features to start and expand your e-learning or online coaching business. 
Both platforms offer everything you need to get started and have similar toolkits. But only one will be the winner today. So, let's find out which. 
What to consider when choosing a course platform?
There are several criteria to consider before choosing a course platform. 
The popularity of LMS platforms largely depends on ease of use. They eliminate the need for website building from scratch and additional costs that you may face with WordPress, Wix, CMS platforms, or other website builders. 
Therefore, one of the main criteria is ease of use. The platform of your choice should save you time and offer a beginner-friendly user interface. 
Another criterion is Course Building opportunities. As an online course creator, a course-building toolset is one of the most important things to look out for in a platform.
The platform of your choice should offer a course builder that allows you to upload and customize the course alongside SEO-optimize its description easily. 
Responsive design is not any less important. Keep in mind that people are going to access your course from various devices with different screen sizes. So, ensuring that your website is built on a responsive for all screen-sized platforms is essential. 
Also, the platform of your choice should be full-featured. You will need many features if you plan on starting, running, and expanding your online course creation business. These include website building opportunities, customization, payments, marketing, live & even integrations. 
Of course, there are multiple other criteria to consider, which we btw did throughout our article, however bringing in practical examples. So, let's start off with Uteach.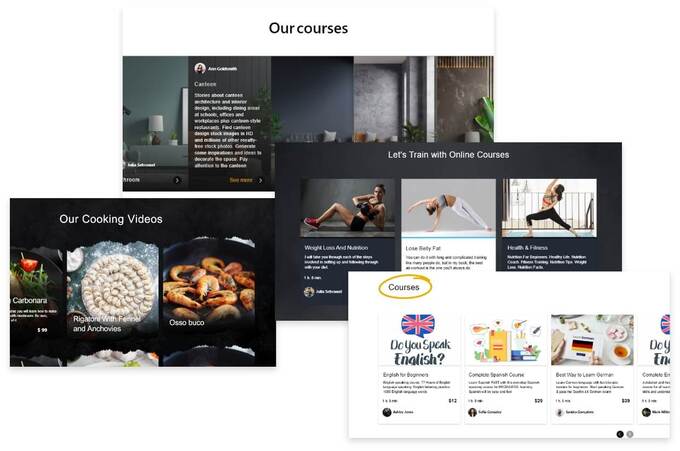 All about Uteach
Uteach is an online teaching business software. It is perfect for educators, coaches, online course creators, and anyone who wants to monetize their knowledge & skills. 
So, if you plan on monetizing your skills on a single platform, this might be a perfect opportunity for you. Why? Because Uteach makes sure to offer you every feature & tool necessary to take control over every aspect of your teaching business from a single place. 
Builder opportunities
First of let's take a look at builder opportunities. 
Uteach comes in handy with Course Builder & Website Builder tools. These are simply perfect in allowing you to customize the looks of your online teaching business. 
Website Builder is easy to use and offers a visual drag & drop editor to ensure you see all the customizations made immediately. It doe snot require any additional skills or knowledge in coding. Plus, Uteach comes in handy with a few pre-made themes which you can choose and later on customize in terms of colors, placements, fonts, etc. 
Course Builder is a whole other world. It not only allows you to easily upload the course videos & other related materials it also allows you to:
Write SEO-optimized descriptions

Place Meta Titles & Descriptions 
Simply put, the customization and SEO-optimization features offer you an opportunity to rank higher in SERPs. This will allow you to improve your brand's visibility and drive more sales. 
Marketing
A not less vital aspect of your brand in the 21st century is marketing. Uteach provides you with features sufficient for marketing as well. 
First of all, it offers an app that will greatly contribute to your business's growth. Incorporating app availability into your teaching process will give students an incredible opportunity to learn on the go. 
Other marketing features of Uteach include:
Sales & Coupons. In order to attract more students or coachees to your courses, you can create and offer certain discounts & coupons. Creation of these is done from the dashboard without the utilization of any third-party tools. 
SEO optimization tools. SEO optimization is vital to create a search-engine-friendly website & improve visibility in this competitive market. 
Unlimited landing page creation opportunities to effectively convert viewers into leads and, later on, leads into real-time customers.
Integrations with lots of third-party tools to enhance your user and students learning experiences
Certification, Assessment & Quizzes - these will allow you to keep students engaged and motivated all the way toward the end. Plus, students will see their progress and knowledge-test results to understand how they should optimize their learning strategy for better results. 
So, once again, you gain control over this aspect from one single and easy-to-use dashboard. Definitely, Uteach deserves a point here. 
Automation
Uteach is potent automation that offers slots of useful automation features to help you save a great deal of time on routine tasks and boost productivity as well as return-on-investment rates. 
For instance, it offers a variety of ready-made templates and themes to save you time on the customization of your website. 
Also, it offers automated messaging, notifications, checking, and other features to enhance the students learning & progress-checking experiences. To ensure that you won't forget about vital meetings, classes, live webinars, or coaching sessions, Uteach also comes in handy with a Calendar feature. 
Branding
Uteach values its users and offers fully white-labeled websites with a purchase of certain plans. With Uteach, you can get a customs domain and do incredible branding of your teaching business, which will help you to stand out from the rest in the best possible manner. 
Price
I believe it is time to finally revise this platform's pricing aspect, which is, spoiler alert, quite affordable. 
Basic subscription ($39/mo or $29/mo if paid annually) - this plan comes in handy with all the basic features that you will need to start & grow your business. Yet it ensured to offer enough functionality for effective learning processes & customization. 
Pro plan ($99/mo or $79/mo if paid annually) - Pro Plan is one of the most popular plans currently available. The difference from the basic plan is that Pro one offers the sale of courses in bundles, automated quizzes, completion certificates, an app, built-in CRM, and other cool features. 
A Business subscription costs $199/mo if you decide to pay annually or $249/mo. This plan is perfect for large corporations. First of all, you can have up to 20 admins. Secondly, you get priority support and a personal manager. 
So, offering such affordability, Uteach ensures to equip you with all the up-to-date features for successful online education business management.
Pros and Cons
It is time to wrap things up with Uteach by looking at the list of Pros & Cons that it comes in handy. 
Pros
Good support - answer quickly, speak politely, and resolve everything efficiently. 

The membership feature will be available soon enough. 

Good user interface that is perfect both from the front and back ends and is extremely beginner friendly. So, you do not have to be a Pro to create a Pro-looking teaching website.

Lots of customization features & Visual Drag & Drop website builder 

White labeling & Custom domains 

Unlimited quizzes, certifications, coupons & discounts to create in order to get more clients, boost engagement rates & keep students motivated 
Cons
It does not offer a free version. However, this is a resolvable issue as you get a 14-day free trial run period for the paid plans. 
All about Easy LMS
Easy LMS is quite famous among online educators and course creators as it also comes in handy with lots of interesting and useful features. 
However, in terms of availability for wider audiences, it already puts a limit, as originally, the platform was created for hosting effective employee training. 
So, I suggest we review them in various vital criteria setting to help ease up your choice between Uteach Vs. Easy LMS. 
Builder opportunities
Easy LMS offers the necessary features to build good employee training that will be perfect for small and medium-sized businesses. The course builder is easy to use and offers just enough features. You can incorporate to your training various media files and assessments. 
Marketing
Easy LMS allows you to generate automated certifications to keep students engaged and motivated throughout the way. Plus, to improve engagement, it also offers features that allow you to build and incorporate various assessments and quizzes into the course/training. 
Also, due to the analytics feature, you will be able to track the overall performance of your students & courses to optimize your marketing strategy. However, stand-alone marketing features are not provided by Easy LMS.
So, in the aspect of marketing, Uteach again wins. 
Automation
Easy LMS offers enough integrations and automation to save time on routine tasks. For instance, you can send automated emails & notifications, automated certifications of completion, etc. 
Branding
You can have a custom domain with Easy LMS and customize the overall look of your academy in order to match your brand's colors and unique voice. Plus, it offers white labeling features.
Simply put, Easy LMS does not lack first-hand features, yet it remains truly good for employee training rather than online course creation or coaching, as it does not offer enough functionality for those. 
Price
It is time to take a look at the pricing plans. 
Easy LMS offers three Primary Paid Plans that are:
Business Owl ($50/mo) - offers basic features to get started with online teaching business 
Corporate Owl ($99/mo) - differs from the basic plan by offering advanced certification & 2 administrators 
Enterprise Owl ($250/mo) - offers academy and single sign-on
Uteach comes in handy with much more affordable prices yet offers more functionality. So, in terms of pricing Easy LMS loses a point. 
Pros and Cons
Finally, let's conclude the Easy LMS part with the list of Pros & Cons. 
Pros
Unlimited exams creation option - your students definitely won't struggle from lack of engagement due to this feature. 

Good analytics - this feature will provide you with sufficient data on student progress as that will allow you to optimize various strategies further. 

White labeling 
Cons
No Free version is available 

High price ranges 

Confusing language on the back end for beginners
Check the Uteach vs Easy LMS comparison table.
Uteach: Choose the best one
To wrap things up, we can say that both of these platforms are incredible in unique ways. 
However, if you want a platform packed with all the possible tools & features necessary for business creation and expansion at a better price, then Uteach should be your ultimate choice. 
With Uteach, you can create a business website, do live coaching sessions or simply publish pre-recorded courses for passive income. You get an incredible opportunity to monetize your knowledge, take control of every aspect of your business from one place and be your own boss. 
Also, if we take a look at the main criteria of comparison mentioned in the first paragraph, such as feature-rich, easy to use & responsive, once again, Uteach wins. 
Say no to 9 to 5, and dive into the world of online education.