There are numerous platforms for course building, selling, and purchasing available out there. However, in this competitive industry, it is crucial to choose the right one.   
 
How to make a final decision? Do not worry; we did hours of research instead of you and are ready to present to you the comparison of the Great platforms in order to make your final choice easier.
So, if you are ready, let's start!
What are Uteach and Heights Platform?
Let's start from the very beginning. As you know, the e-learning industry is on top of its success, and it will continue expanding. More and more students realize the vitality of education and enjoy the freedom of online one. Besides, student coaches, trainers, and experts in the fields realized how time-saving and cost-effective online training could be. In this competitive market, just Zoom and Google Meets are not enough anymore. Nowadays, you need a full-featured LMS, a dedicated e-learning platform to attract students.   
 
Here is when those platforms such as Uteach and Heights come to help. With them, you can create a complete website with all the features to manage successful courses, clients, and databases. 
Factors you need to consider
Before choosing a platform to literally build your business on (basically, its fundaments), you have to take into consideration several factors. Those platforms have to offer enough functionality, be easy to use, and of course, affordable. Now, we are going to review the main factors you should consider while choosing the final platform. 
Course builder
Uteach: 
Uteach offers one of the most user-friendly course builders. If we take a look at the course builder, here are the steps you have to complete to access and publish a course in under 20 minutes:  
 
Go to the admin's dashboard 

Click on the dropdown menu of "Learning Content," then "Courses."

Afterward, click on "Add a new course."

  
 
For each course, you will have to fill out: 
The main information includes the title, URL, image, and course description 

Videos & Files - your courses do not have to be only in video format. Also, if you offer pre-recorded classes, you can add additional materials for the students in the course.  

Quiz and Certificate is a tab form in which you can elicit the quiz from your quizzes for the particular course and add a certificate that users will get with a particular passing grade. 

Price: Set up a free course or a particular price for the paid course 

Settings - draft/published/private, and SEO settings. 

  
 
As you can see, all the fields are easy to fill out. Besides, Uteach offers SEO settings that will help your course rank in various search engines, therefore potentially increasing the chance of getting higher traffic and more clients.   
 
Heights:
Now, let's take a look at the course-building opportunities Heights offers. When we were testing the platform, the noticeable difference was the user interface. Although the color choice is nice, the user interface seems a bit confusing, especially for beginners. To create a course, you have to click on the "Create a product" and then choose "course." And this will redirect you to the course builder.   
 
Inside the course builder, you will be able to name the course (title) and add a description. Afterward, you can upload a cover image or video file and hit the publish button. Everything seems simple, but the features lack. For example, there are no SEO settings. However, there are course settings from which you can choose whether to enable free or paid enrollment. Also, you can set schedule settings. 
Builder opportunities
Now let's take a look at the overall site-building opportunities the platforms offer.   
 
With Uteach, you can edit and create lots of pages and design your overall site with an easy-to-use drag & drop editor. Let's take a look at the core elements of a site builder, which are:
Pages are the main fields of your website. In order to create new pages in the admin's dashboard, access the dropdown menu of "Site Builder" and click on the "Pages" tab. Inside the page builder, you will be able to see all the existing pages, edit, preview, or make a homepage for each of them. Click on the "Create a new page" and fill out all the sections that include SEO settings, images, status, type, etc.; then, you can edit every detail with a drag & drop builder in the visual editor. 

  
 

Menu Builder: this part of your website deserves your attention. Why? Because your users will be able to toe easily navigate through your website only if you offer a nice menu. Make sure to enhance user experiences by doing so. You can access the main menu and footer menu in the menu builder. You can add, delete or edit items inside the menus. 

  
 

Email Settings: Uteach made sure to help you out by offering email automation. 
Heights may not offer much flexibility in terms of site-building. However, you still have the opportunity to edit the landing pages and add testimonials.   
 
Design
Uteach allows you to choose one of the pre-made templates for the overall theme of the site and still be able to customize it. Also, you can easily edit your home page. The templates offered by Uteach are unique, modern, and at the same time, extremely eye-catching. Those templates will save your time and still provide you with lots of customization options in terms of color, texts, imaginary, fonts, etc., so that you will be able to be different from the rest.   
 
Heights does not offer you much functionality and flexibility in terms of design. Of course, you can add your own imaginary thumbnails to videos, etc., but choosing a theme or pre-made templates for the overall website is not an option here. However, you can still access and edit the pre-made templates for the blog part, such as blog list, blog post detail, sidebar, and category. In order to edit the pre-made templates, though, you need some knowledge of coding.   
 
Digital products
Uteach allows you to sell not only online courses but a huge range of digital products that you want. Do you want to sell an e-book, webinar, audio file, audiobook, or event? Does not really matter; you can sell anything that comes to your mind. Of course, in order to maintain the reputation of the online teaching business, it still has to be teaching-related and communicate the message of your brand.   
 
In terms of the availability of selling various digital products, Heights is good. With this platform, you can sell not only online courses but also various digital products such as downloads, events, and more. Also, this platform allows you to create challenges, messaging groups, and projects in order to ensure the student's engagement.
Physical products
Unlike Heights, Uteach also offers the opportunity for you to sell physical products. For example, maybe you offer a hard-cover book instead of an e-book. In that case, you will be able to sell it with Uteach as well. 
Automation
Nowadays, a critical factor in choosing any platform for your business is the availability and features of various automation. When a platform does not offer enough automation, it becomes extremely overwhelming and time-consuming to manage everything on your own. Plus, it will not bring you actual return-on-investment as mostly those are connected to routine tasks, e.g., sending a reminder email about the life lesson for every registered student. So, let's take a look at what kinds of automation those platforms offer.   
 
Live lessons
Uteach is the first platform ever that offers end-to-end live lesson opportunities. Under the same dropdown menu of "Learning Content," you can access the tab "Live lessons" and create one. Also, it is worth noticing that Uteach has integrations with Zoom, InSpace, Jitsi, and any other video call app/platform (when choosing another platform you need only to add the link of the meeting).   
 
Every live lesson offers certain actions, such as - lesson items, copy URL, edit, duplicate, and lesson students. If you want to create a live lesson, just click on the "Create new live lesson." Afterward, fill out sections such as general information, curriculum, and materials, participants' invitation, publishing, and SEO settings.   
 
You will be able to choose the type of your live lesson (offline/online), platform (Zoom, InSpace, Jitsi, other), add images, and set prices and dates. Of course, you can upload the materials you need and create groups of participants just to select the particular group for a specific live lesson.   
 
Also, make sure to add SEO settings in order to rank higher ins search engines, and do keyword research before you add keywords for the live lesson.  
 
Heights do not provide you with an opportunity to create and sell live lessons. However, you can still create and manage email campaigns.   
 
Quizzes
With Uteach, creators, and caches also can create amazing quizzes for the students. First of all, quizzes will help them to stay motivated and better acquire the material. Secondly, with quizzes, you can set a passing grade n order for the student to receive a certification that verifies their knowledge.   
 
In order to create a quiz, follow the steps mentioned down below:
Access the admin's dashboard, a dropdown menu of Learning Content 

Click on the "Quiz" section > "Create a new quiz."

  
 
Inside the quiz builder, you can use create a quiz with an unlimited number of questions. Also, the best part about all of this is that you do not have to check each quiz manually. The automation will check the quiz. If you offer a mixture of questions, then do not worry about multiple-choice ones because Uteach automation will also check them and eliminate the need for you to spend extra time on those. Therefore, you will be able to focus on text box content.   
 
Remember that a good quiz must provide students with instructions, which you can write in the description part. Ensure to select an optimal time limit and a passing grade.   
 
You cannot create quizzes directly in the Heights Platform. But you can integrate and connect various quiz builders in order to be able to provide your students with quizzes.   
 
Certification
In Uteach, you can create eye-catching and modern certificates for your students to motivate them to learn. You can upload a custom logo, description, and signature. Also, you can make all the other necessary customizations.   
 
Heights allows you to grant your students with certain awards such as badges and certificates. You can create a custom badge or choose to form the existing ones. Also, you can create a certificate and customize it or upload a ready one. Customization is available in terms of texts, fonts, and colors.   
 
Third-party integrations
Integrations are vital as they offer extra functionality without additional coding. So, what integrations do those platforms offer?  
 
Uteach presents to you the most useful list of integrations such as - PayPal, Stripe, Zoom, InSpace, various Google products, Pipedrive, Zapier, MailChimp, etc.   
 
Heights offers integrations with - Facebook ads, Google Analytics, Unsplash, PayPal, Dropbox, Google Drive, Instagram, YouTube, Vimeo, and others. Also, it offers some integration with Zapier.   
 
All of the integrations both of the platforms offer will help you to:
Save your time because those integrations are created, developed, and tested by another company. So, you can just use already reliable ones. 

Embraces students learning experiences by offering extra functionality and developing their technical skills alongside. 

  
 
Branding
Another important aspect of such kind of platforms is branding. You must have enough functionality to create a brand, and manage it successfully.   
 
White Labeling & Custom domain
White labeling is essential for branding. Because many websites now are built on their party platforms, therefore their domain, email, and other stuff include labels of those platforms they were originally created on. Luckily Uteach and Heights allow you to exclude the names of the platforms and only use your company's name in the branding. Both platforms allow you to do white label branding, which is amazing.   
 
Also, on both platforms, you can purchase and have your custom domains. So, in terms of trading, Uteach and Heights are serving as powerful tools for online course creators.   
 
Class-community
Uteach values interpersonal communication, therefore, offers lots of features to create an in-class community. One of those features is the availability of memberships so that you can turn your website into a membership website. That can benefit you in many terms. For example, you can offer special and limited deals to your members and motivate them to register on the platform. After registration, you will collect their emails and build up a quality email list that you can use for your further marketing campaigns. With live lessons and email updates, you can engage with your community members  
 
Heights has features that enable the creation and management of a good in-class community. The creators of the platform comprehend the importance of engaging with the audience. On Heights, you also can create a membership website. But besides that, you are able to open discussion boards for members and create challenges. 
Marketing opportunities
Now let's take a look at the marketing opportunities. If you are truly committed to what you do, then you must realize the importance of marketing nowadays. Let's be real. Without a proper strategy, none of the products you offer in this competitive market will gain enough visibility to be purchased.   
 
So, in order to create a strategy, you need to identify your target client, niche, and overall demand. And in order to improve the visibility of your website, you have to pay attention to aspects such as blog, SEO, and student coupons.   
 
Blog
Let's review this aspect in terms of both - have a blog and offer a feature of creating a personal blog. And both platforms have both of the options mentioned above.   
 
Uteach has an incredible blog that will be very useful in your journey, where you can read lots of useful articles about course building, promotion, online coaching trends, and various platforms. Besides, you can start your own blog. According to statistics, those businesses that have blogs improve brand awareness and generate more leads and sales, which automatically leads to higher profits.   
 
When you create posts for the blog on Uteach, you have Title, images, meta description, and meta title fields in order to optimize your post in the best possible manner. Therefore, with the built-in SEO setting, you can be sure that your blog will bring your business good results. The system also will automatically generate and add Sitemaps, which are crucial for good SEO.   
 
Heights has a blog where it publishes lots of useful material related to online teaching business and course creation. Besides, it also allows coaches and business owners who use their website to create a teaching business to have a blog as well. So, with the built-in blog feature, you get to publish blog articles.   
 
SEO
Unlike Heights, Uteach focuses on the SEO optimization element of the website in terms of everything. In Uteach, you have SEO settings for everything, including pages, blog posts, course titles, meta descriptions, and general descriptions. Therefore, in the aspect of SEO, Uteach is unbeatable. With this platform, you will definitely rank higher in search engines and be able to optimize everything with ease.   
 
Affiliate program 
Affiliate programs are vital, because they can help you to improve brand awareness.   
 
Uteach currently does not offer affiliate programs. However, the platform is on its way to introducing lots of new and useful features for its users. Soon enough, users will be able to enjoy the affiliate program offered by the platform.   
 
You can leverage affiliate marketing and create an affiliate program with Heights Platform to promote your online knowledge business. This is an amazing way to make passive income.   
 
Student coupons
In the Uteach admin's dashboard, under the "Financial" dropdown menu, you can see the section called "Coupons." Access the section and create discount coupons for students in order to encourage new sales and increase returning customer levels.   
 
Inside the payment setting area in the Heights, you will be able to create codes for student coupons. Coupons will further motivate students to take more courses due to available discounts.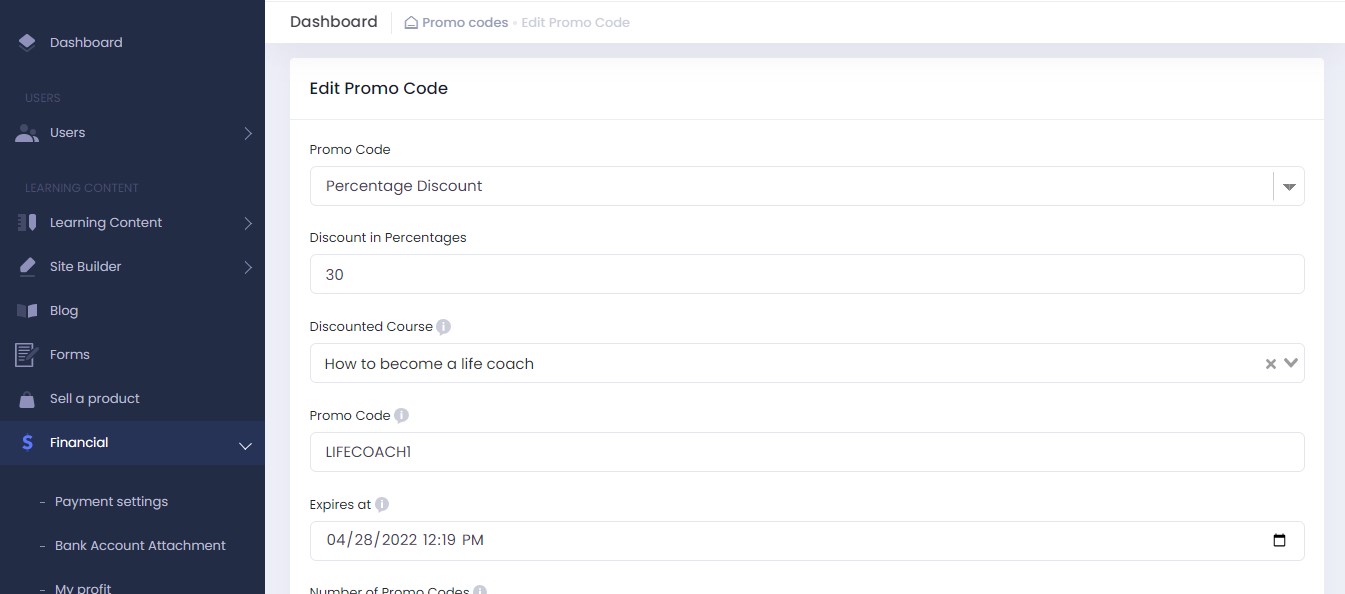 Pricing
Finally, the pricing aspect of the platforms.   
 
Uteach offers quite a range of flexible and affordable pricing plans, that are:
Free - 3 courses, unlimited students, 7% per course sale, default template, payment gateway, etc.

Basic (29$) - unlimited courses, one admin/author, payment gateway, unlimited students, no transaction fees, unlimited storage, custom domain, integrations, forms, products, etc. 

Pro (79$) - Basic, plus five admin/authors, automated quizzes, certificates, student data integration, Zapier, Mailchimp, IOS & Android app, white labeling, etc. 

Business (199$) - Pro, plus 20 admin/authors, priority product research, personal manager, etc. 

  
 
For paid plans, you have 14 day free trial run period without any credit card information required.   
 
Heights offers pricing plans, such as:
Challenge (19$) - one challenge course, lesson comments, unlimited email, 1000 contacts, up to 100 active students, learner analytics, etc. 

Basic (39$) - unlimited courses and challenges, community discussions, learner analytics, unlimited video uploads, student projects, affiliate program, etc. 

Pro (79$) - unlimited courses and challenges, community and discussions, up to 1000 active students, customizable badge, white-label branding, etc. 

Academy (399$) - everything in the Pro plan, plus unlimited active students, up to 100.000 people in contacts, custom domain, landing pages, blog, etc. 

  
 
Both platforms are in the affordable range. However, if we consider all the features they offer, Uteach is a better platform in terms of more functionality and a better user interface. And most importantly, Uteach, unlike Heights, offers a free pricing plan. 
Use cases
Who can use those platforms and what for? Let's take a look at the potential use cases.   
 
Uteach:
The feature-rich and easy-to-use automation Uteach is for everyone who has an online teaching business. With Uteach, you can sell a wide range of digital and physical products, hold live lessons, offer pre-recorded classes, etc.   
 
Uteach is an incredible platform for building a complete website with all the necessary functionality in order to enhance user experiences. Besides, Uteach offers SEO settings for almost every aspect of the website to ensure that your website ranks higher.  
 
Heights Platform:
Although the Heights platform's course & site builder have limited customization options, online coaches can still use it to manage their online courses. However, this would not be a wise choice if you need a full-featured website with lots of customization options. Heights is a platform for those who offer online courses and some of the other digital products that want to keep students engaged with challenges and messaging forums.   
 
So, basically, it is a perfect platform for those who want to create and manage an online e-learning business with lots of expansion and automation opportunities.   
Uteach: The best online course platform for you
Uteach offers incredible course-building opportunities and not only course building but site-building. Uteach's main purpose is to give you an opportunity to create and maintain a full-featured e-learning business from one place. Therefore, it offers each and every necessary feature. For example, the site builder is extremely easy to use due to it being a drag & drop editor. It offers page builder, course builder, etc., with built-in SEO.   
 
With Uteach, every creator can start or continue their path toward success. You will be able to create unlimited courses, send unlimited emails, make campaigns and get unlimited students. Therefore, you will be able to monetize your knowledge in the best possible manner. The main benefits of Uteach are:
Automation: Automate quizzes, live lessons, email notifications, and almost every routine task in order to save your time and get more return on investment.

Easy to use: Let's be honest, Uteach offers one of the most user-friendly interfaces in terms of colors, fonts, spaces, and navigation.

Lots of features: this is one of the rarest platforms that will allow you to build and manage complete e-learning LMS website.
See all Uteach reviews in AppSumo
Branding: provide students with certificates, take advantage of white labels and custom domains, and generally create a website that communicates your business's unique message․

Toggles that enable you to turn on or off certain features: Users are able to have all the control from one place. They can choose which function to turn on or off, e.g., they can turn quizzes automatically or manually, choose whether all questions should be displayed on one page or different ones.

  
 
Uteach will be with you every step of the way.