There are millions of platforms available for online courses and course business owners. However, in this dynamic industry, your choice of platform can be critical on the path to success.

Therefore, in this article, we are going to compare two giant platforms, both great for online coaching businesses. We will compare every possible aspect, including factors, themes, pricing, automation, and use cases.

So, if you are ready, let's start!

What are Uteach and Podia?
One of the first steps an online tutor should take is to decide what platform they are going to put their course on. It is, in fact, essential, as the platform choice will determine the medium of the course. Uteach and Podia are two digital platforms designed specifically for creators and online tutors. Both of them allow to create a niche for spreading online education, and although their aims are the same, the platforms differ. Let's break them down to their main characteristics. That will help us to find common places and differences and decide which platform is the most applicable for an online tutor.
Factors you need to consider
There are several factors you need to consider before making your final choice of the platform.
Course builder
Uteach is a platform that allows you to create your website from scratch and design your online tutoring courses. It is a highly customizable platform that will help you to create, promote and utilize your courses for large audiences of unlimited students.

An important part of good course creation is the interface. You are going to spend a lot of time on that website, uploading courses and writing blog posts. Your students are going to spend no less than that learning. So, it is crucial that you create a beautiful environment that looks modern enough but is not too distracting. Let's see how Uteach and Podia did it.

Themes
Let's review the aspect of the theme.

Uteach - The first thing to note is that Uteach is not just a platform that you can upload your course too but a self-sufficient website builder. After registration in Uteach, you will get your own domain. Also, you will get the ability to customize your website however you want. There are many different editorial features that you can employ in order to get a new product that bears your brand name. By saying "many features," we mean truly a lot. E.g., you can add pictures, change font size, color, image, background, etc.

Basically, Uteach is like a Lego toy, but you have five thousand details. Plus, the platform allows you to create three designs: for a PC or a laptop, for a tablet, and for a phone — this is just a brilliant feature. Nowadays, many people access their courses on buses, trains, and plains, so they would appreciate a beautiful mobile app design.


Podia - The first thing we need to address concerning Podia is how the platform helps you with your course. Very much like Uteach, Podia lets you create a whole website for yourself. But, unlike Uteach, Podia lets you have only one template, whereas the former provides you with a wide variety. Podia, though, is created in a way that you will hardly ever have a question, but if you do — there is always a link to very specific guidelines.

Your website page, according to Podia, should consist of:
Sales page. This is your starting page where you introduce yourself, your brand, and some details that will let you advertise your business better. Podia provides you with website templates and examples, so it won't be hard.
Download. This is a file, most commonly in PDF format, that you can sell or give away as additional advertising, i.e., a digital download selling opportunity.
Electronic Mail. The best way of promoting your course is by sending sales emails that contain information about your brand and offerings. When you create and put your emails into Podia, the platform automatically creates a "campaign."
Terms and Conditions & Privacy Policy. This is the document where you put your rules in order to protect your business. Then, you can launch your website!
But, there is another disadvantage of Podia: it does not allow you to create more than one design. Uteach, as we have mentioned above, provides you with three different types of design: a computer, a tablet, and a mobile phone. Podia, alas, doesn't.

Digital products
Uteach:

Again, Uteach allows you to employ several types of digital and even non-digital products, even in the free version. First, you have your homepage — a website of a sort. Then, you can upload video lessons, arrange them in different folders and create separate courses, all on one site.

Even the free version lets you have nine spare pages. Then, you can have your own blog that you can use for different reasons. Uteach also allows you to live stream and see your statistics, for example, how many courses, lessons, or other products you sell.

Podia:

Podia allows the creation of online courses, digital download selling opportunities, webinars, and bundles. You can customize your online courses as needed. With Podia, you can include different types of pictures, videos, documents, quizzes, and more. Similar courses can be contained in folders. Also, you can make your courses get paid pre-launch (you will have to set a date of your course launch) and send sales emails that would remind your potential customers about your course buying closure.

Podia allows automatized email marketing. That will allow you to pay more attention to your course design rather than logistics. And the best part — everything is unlimited: courses, students, emails, documents, pictures, and paychecks — you can have as much as you want.

Automation
Automations are designed to make your life easier. And in this case, both platforms offer plenty of them. Each automation is aimed to enhance the student and coach experience. And no, we are going to take a look at the main elements of that automation.
Live lessons
Uteach:

As we have already mentioned, Uteach allows live streams or, in other words, live lessons. Before having a live lesson, you can add pictures, learning outcomes, and other miscellaneous information (like price, number of participants, knowledge level, frequency, information about the lecturer, etc.) to your live lesson description. You can make your live lessons online and offline and then add materials that are required for your students — whom you can invite by email. Uteach also allows search engine optimization for your live lessons. You can also choose your video meeting app if you decide to do an online lesson — this type has become quite popular lately. Uteach also provides integrations with Zoom or InSpace for video meetings.

The main advantage in the comparison between Podia and Uteach is that Uteach is the first platform that offers the opportunity to hold end-to-end live sessions, unlike any other platform in the world. The end-to-end feature makes the whole process starting from registration and ending with email campaigns, automated and a lot easier.
Podia:
Podia does not contain its own live streaming technology. But it does allow you to connect to two live-streaming platforms: YouTube Live and Zoom. You can embed a link to a video, meeting, and webinar to your course and set a start date with reminders for you and your students.

You have a place to describe the live stream, or you could add instructions instead — your students will see it in your dashboard. Most importantly, you can record the live stream and upload it to Podia so your students can access it whenever they want. In case students couldn't attend the webinar in the first place, or they want to clear up some details.
Quizzes
Uteach:
Did we mention that you can take a quiz on Uteach? Well, you can. It is, again, a very customizable entity. It should have its own description that would include the following:
Duration

Automatic or non-automatic checking

Passing score

Author's name

Images and documents

etc.
You can add different types of questions like multi-choice, true and false, and write the the-answer questions. Plus, you can also add pictures to the questions as well, which is quite useful if you're doing a map question for history or something similar.

Podia:
Podia had very nice quiz opportunities that you can include at the end of every lesson of yours, which is incredibly convenient. Not that you have to add a quiz at the end of every lesson, but you do have such an opportunity. You first our the title of your quiz, and then you can add some parts of your lesson in order to provide your students with a cheat sheet of a sort. Then, of course, the questions follow, and they can be of different types: multichoice, type answers, etc.
Certification
Uteach:

After your students finish a course or a lesson, or even just pass a test, you can reward them with a certificate of a certain achievement. You have a brilliant opportunity to create your own design for the certificate. You can also upload your logo and your signature. You would have to add your student's full name and the reason why they are granted.

Podia:

Podia provides you with tonnes of certification designs, so you can surprise your customers with a nice and beautiful reward. This is really helpful in cases when you want to motivate your students and make them feel that their hard work is not wasted. So, take a template, customize it to your taste or maybe even to the taste of your student, write their name and reason for getting this paper — and send it.


Third-party integrations
Uteach:

Uteach allows you to use third-party platforms like Zoom, and InSpace, for live video lessons. You can integrate other tools too like Zapier, Google Products, Pipedrive, Facebook pixel, etc. But you can also bring your third part members to the platform.

That is not a feature of the free version, but for a small sum of money, you can add up to five admins or authors to your website and as many as you want students. The business version of Uteach allows twenty members/authors/admins for the website, plus you get a personal manager.
Some apps would also ask for a conversion tracking code that you can add below the website tracking code in the same fashion. Anyway, all of that will take probably two-five minutes of your time, unlike this article that took me six good hours to write.

Podia:
Podia allows you to add both content and software to third-party platforms, so you can boost the quality of your website. The process is quite simple: first, you get a snippet code from the third-party tool that you will be provided with when signed up. Then, you go to Analytics and add the third-party snippet to the "website tracking code" box and save the changes.

Branding
White Labeling & Custom domain

Uteach:
When you create a website, a course, and a lesson on Uteach, it bares not only your brand name but also the name of the platform. That can be just as annoying as watermarks on pictures, so you would want to get rid of that. Thankfully, Uteach does provide such an option. No "Uteach" in your professional emails, courses, certificates, quizzes, etc. If you update your Uteach plan to the Pro version (which is the most popular tariff),but more on that later.

The very first thing you do after putting your email in the "sign up" box for Uteach registration is the name of your website. For example, if you decide to go with your own name Jack Jacobs, your website name will look like this: jackjackobs.uteach.io. Again, "Uteach" appears in your domain name, and maybe you want to change it. Or maybe you don't think that the first domain that you choose is very professional or suits your course. The Pro version also allows you to customize your domain.

Podia:
Let's see how Podia deals with white labeling. When it comes to a custom domain, Podia does let you have your own domain name without its own mentioning, but there's not anything more to add to that. Unlike Uteach, it will not let you have emails, footers, logins, checkouts, terms&conditions pages clean of Podia's brand name, which is unlucky.
Class-community

Uteach:

Apart from having several admin/author options, you can have unlimited students, even for the free plan. You can create a cozy and comfy class environment using blog posts with added commentary sections. In that section, your students can communicate with you and with each other. Automatic live lessons are also a great opportunity for a class community bonding experience. Plus, live lessons will have chat support.

Podia:

Still, there is a huge benefit of Podia: it enables you to build your own online community right on the platform. Indeed, you can have everything in one place. Since Podia is designed for tutors and their students, it does not have very distracting chats. Everything is created in a way that enhances and encourages academic values. Your students can engage with you and each other by creating posts, commenting, and evaluating your content and the content of their peers.

Marketing opportunities
Let's see how these different platforms allow you to promote your business.

Blog
Uteach:
A blog is a good way of promoting your course, and you can use many different platforms for that, even social media like Instagram and Pinterest. But you don't have to. Uteach allows you to have blogs within your website, so you won't need to use external platforms and pay for advertisements there. What you do is click on the blog opportunity in your Uteach dashboard and simply write a blog.

The more blog-posts/articles you have (and longer they are),the more attraction you will get: your website will get up in the line when searched. Plus, when a possible customer/spontaneous visitor of your website sees that you have blog posts, they can make up their mind and make themselves more acquainted with what you have to offer. Either way, it is a brilliant way of promoting your courses.

Podia:
As we have already mentioned, Podia provides the user with different types of products, including bundles and blog posts. Yes, Podia does provide you with a blog opportunity, and what is fun about it is that you can easily customize them. Plus, your students can interact with them and like them (just like on Instagram!),comment on them, etc. They can also create their own posts, so that's great. When it comes to bundles, though, this is quite interesting.

Bundles don't limit you to specific file types, rather, they let you put basically anything there — with a price. But a price that your customer pays, not you. In other words, you can sell "collections" of materials, which is super convenient. Some people do want to gain knowledge easily, and they might not have time for a full course. But a bundle with short information about the topic will be perfect for them, especially if you set a lower price.
SEO
Uteach:

As we have mentioned above, Uteach allows you to optimize search engines for your website and courses within the platform. If you don't know what SEO is, here's a quick recap, but you can learn about it in full detail in this article of ours. SEO or search engine optimization makes your website visible in search engines like Google and Safari.
It allows your website to gain more traffic and increases brand awareness, and both have an opportunity to get you more profit. Uteach allows you to use Ahrefs, Ubersuggest, Keywords Planner, and many other platforms in order to improve your SEO. This will further result in more visibility of your website and course in the e-market.

Podia:

You can improve your website rankings by optimizing your search engine value in Podia as well! Doing it manually may seem repulsive and complex, but Podia will help you with it. Let's break down SEO details for Podia. After you decide which keywords you will use for optimization (it's important, don't skip this step),you can add them to your blog posts and title page.

Podia also allows meta-descriptions and alternative-description tags for images. You can include it both in your content and on your main website page. The results will be seen in a few months, but they will still help you promote your course, especially for those who prefer mobile apps.

Student coupons
Uteach:

Does Uteach provide you with an opportunity to make your students' lives easier and create coupons for them? Yes, it does. Since Uteach offers you to upload different types of content on your website page, you can put coupons on different things. Another thing is pre-sell discounts.

For example, you did a prelaunch email campaign in order for your website visitors to pre-order your course. Uteach allows you to put discounts on pre-orders to allure customers.

Podia:

Podia's advantages are in its coupons. Podia allows you to create coupons for your students, which is a very nice way of treating them (apart from certificates). You can offer them different discounts on products that your brand produces. To make a coupon, you will need two minutes. First, you will create a coupon code that will let your students apply the coupon; then, you will select the products they'll get a discount on and the discount percentage.

The coupon code can be limited in use and can get expired, but that is for you to decide. Why is this a brilliant marketing strategy? Because you can promote your social media and attract more audiences by saying where to find your coupon codes. Thus, increasing the traffic to your website and other platforms that you use for your brand.

Pricing
Let's address the elephant in the room, as people mostly make their decisions according to the price/opportunities value. People don't like expensive things, do they?

Uteach:
Uteach provides you with three plans and one free version:
Free. The free version is complete, as you guessed it, free. It allows you to create three courses with unlimited numbers of students and takes 7% of your per course sales. You will have to stick to default website templates, but it'll do for a beginner or somebody who just didn't make their choice yet.
Basic plan. The basic plan lets you have as many courses as you wish and no transaction fees per course. It provides you with unlimited storage, unlimited courses, an unlimited quantity of students — unlimited everything. The basic plan also lets you customize your domain. Most importantly, it enables a wide variety of third-party integrations. Integrations such as Facebook, Google Analytics, Pixel, and others. All of that for 29$ a month.
Pro plan. The Pro plan costs 79$ a month and so far is the most popular. It includes everything that the Basic plan has. Plus, it allows five admins, automated quizzes, certificates, and automatic live lessons. It allows you to integrate with iOS & Android apps for free. And it is the Pro plan that includes the feature of White Labelling that definitely adds to Uteach advantages.
Business plan (199$). The business plan includes everything that the Pro plan has. Plus, it allows you to have 20 authors/admins (yes, adding teammates is included),a personal manager, and a consultation with a specialist. This one suits companies rather than individuals, but you can use this as well. Business plans and, actually, any other plans allow free trials.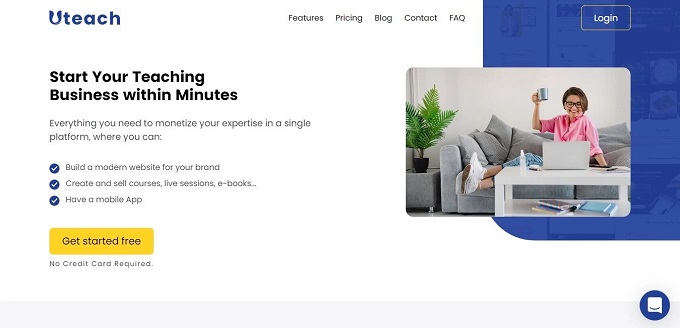 Podia:

When it comes to price, Podia allows you to have three plans only when it comes to price. Unlike Uteach, there is no free plan, but you do get a free fourteen-day trial, which provides Uteach too. Let's have a look at three plans that Podia provides:
Mover. Monthly, it will cost you 39$/month, but if you pay annually, you'll get it for 33$/month. The mover plan allows you to create your website and provides you with email campaigns, class community, and unlimited courses.
Shaker. Shaker costs 89$ monthly and 75$/month annually. It includes everything Maker does and offers an infinite number of coaching products and affiliates with unlimited storage.
Earthquaker. Finally, the Earthquake, which costs 199$/month if you pay monthly and 166$/month if you pay annually, contains everything the Shaker has. Plus, it has priority support, onboarding, and monthly creator calls. Just as with the Uteach, this option is more applicable to bigger businesses than individual coaches.
Use cases
To wrap things up, let's take a look at the potential use-cases of two platforms.
Podia:
This platform can be used to sell online courses, memberships, and various digital products. It has a free and paid version. Podia is an amazing platform for teachers and students and offers just enough functionality. Although form the downside it has quite a few limitations compared to the Uteach.
Uteach:
Uteach is the best platform of choice, in terms of unlimited features, a drag & drop website builder, and an amazing user experience. With Uteach you will be able to create a full-featured coaching/online courses website in a matter of minutes. It can be used to host a membership site or an individual website for your own business.

Uteach: The best online course platform for you
Now that we have worked on identifying the salient features of both platforms, it is time to summarize and decide which platform is the best for you.

Both platforms have many use cases and necessary features. However, Uteach still manages to overdo Podia in many vital aspects. First of all, it offers more features and freedom for your website. With Uteach, you will be in control and also can add many third-party tools to enhance the user experience even more. Plus, the pricing plans Uteach offers are extremely affordable.

One of the main benefits though is that Uteach is the first platform that ever offered end-to-end automated live sessions. Everything starting off with the registration ending up with email campaigns is automated and easier with Uteach.

We do advise you to check on both platforms and find which one suits you more based on our guide, but our recommendation is for Uteach. Uteach is the ultimate platform for online creators, as we saw in comparison of the two.