In everyday life, and especially in the online teaching process, we need screen recording tools. Unfortunately, not all of us rely on a good app or tool whenever want to record something on a device's screen. But, in the pool of screen recorders, there are many programs and you should choose the most comfortable and useful one.
In this regard, you are highly recommended to pay attention to some factors. The most important point is to identify your needs and requirements so that choose a tool that best fits your demands.
Today I speak about these factors. For this time, I'm going to introduce one of the most effective tools - Screencast o Matic. In the end, you will learn why it is the best screen recorder. First of all, let's discuss the advantages of Screencast o Matic. Its advantageous features may become reasons to choose the tool.
Do you want to get a ready checklist of online course creation tools?
Reason #1 Comfort
Using something is enjoyable when it is comfortable as well. Comfort means that the offered functionality is easy to use. ScreenCast gives you an opportunity to use all the functions very easily. Once you enter the website, you immediately get the button to record for free.
The power of Screencast-O-Matic is available for Chromebook, Mac, iOS, Android, and Windows. With the help of this tool, you may capture any area of your screen, add audio narration or video from your webcam. It's possible to record lectures, tutorials, demos, games, and more!
Reason #2 Flexible Pricing Plans
Screencast o Matic has several pricing plans for individual users as well as for teams. 2 plans are available for each type. Yet, the plans for individual users also includes a free plan. This free plan offers some limited features but sometimes t may also meet your requirements. For instance, it doesn't provide features to zoom in/out, and speed up/down while recording, or hide the cursor from the screen.
However, even if you need such advanced features, the cost is not so high. The Deluxe plan is just $1.65 and the Premier is $3 monthly. This is nothing compared with all the features we make use of.
If you are interested in the prices, check out and compare the plans on this page.
Reason #3 Managing and Sharing Content
Whether this is a hobby or not, you may like to share the screen recordings on different platforms. The ideal program has facilities to share content. Screencast-O-Matic provides you with features to save your files or share these on YouTube, Google Drive, Dropbox, or directly in the app.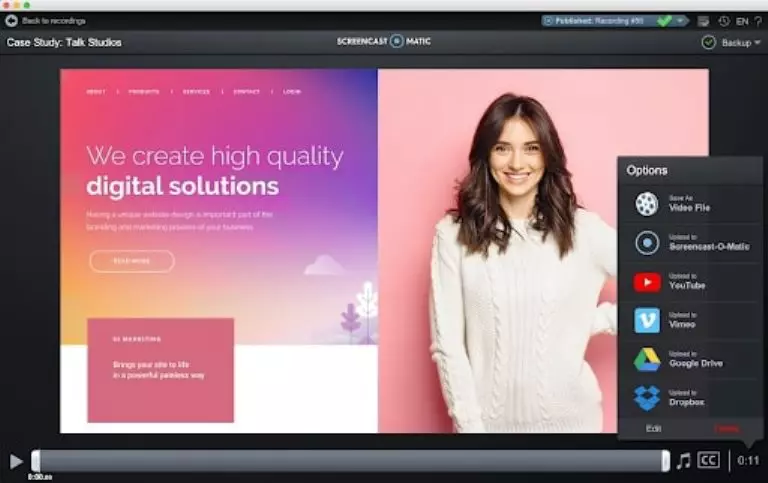 You also get a chance to manage your videos. Edit the content, cut, add additional points, and make all the necessary changes. Another factor which is very very important is good quality. The video recorded with ScreenCast-o-Matic are clear and have high quality.
Reason #4 More Functions
An important point is that you may make use of many features through only one package of a company. In screen recording, one may get access to video editing features. Screencast-o-Matic gives you this chance.
You may easily enhance your recordings with the intuitive editor. It's possible to:
add overlays including shapes, blurs, and more
import recordings or videos to mix and match the content
cut the parts of the record that are unnecessary
add captions
add music to recordings, and many more features
However, this is not all. Screencast-O-Matic gives you the ability to work from multiple devices so that you can work anywhere and anytime.
How to Make Use of Screencast-o-Matic
Just visit the platform and sign up. Having an account is free, but if you start recording then you won't have the opportunity to edit your record.
Once you are already logged in, click on the button "Record for Free". Then, following the "Launch Recorder" button, you'll see a recording window on your screen, as shown in the below-attached photo.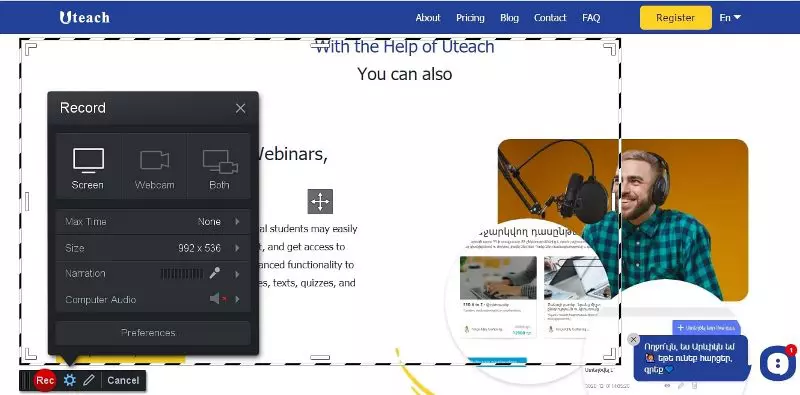 You may easily change the sizes of this window and record the specific area of the screen you like. There is also an opportunity to record the device screen, turn on the web camera, or do both at the same time. For instance, you may like to record how you explain a topic and share a slide on the screen. In this case, you get a chance to record the screen or use the screen recorder and web camera at the same time. If you have a microphone connected, make sure it is properly done. Manage the computer audio as you need. Then, you just need to click on the red "Rec" button and 3 seconds later the recording will begin.
Once your video is already recorded, you top it and here you get an opportunity to implement three actions:
Save and Upload: Immediately download the content into the computer.
Quick Share: If you want to let people know about your video this is a great choice.
Edit Video: You may easily edit the video and make all the necessary changes.
As for video edit, there are various opportunities to make use of advanced features. I tried to highlight some of these features in the below-attached screenshot.
You may choose a specific part of the video and make some changes to that part, as well as edit the overall content. For instance, hide the cursor.
To Sum Up
With the help of Screencast-o-Matic, you get access to a lot of features that help to create attractive, informative, and high-quality videos. This may be very efficient in the process of online video course development.
This may be a great help to make your online school development process easier and more clear. So, do not worry about recording your screen and even both yourself and the screen meanwhile.