Virtual training and online webinars have enjoyed high demand for the past few years. Digitization of the learning industry proves to be productive & efficient both for learners and educators. 
But the question is, which is better for you, virtual training or webinars? This article will compare these two and identify five key differences to simplify your choice. 
So, if you are ready, let's start! 
What is virtual training?
First of all, let's start with the definitions. What is virtual training?
Virtual training is training that aims to develop skills and knowledge in a specific area within a program. To design a virtual training program, you must be an expert on the subject matter, as it requires breaking down the area to come up with a course outline, relevant topics, additional materials, etc. 
To summarize, virtual training is a wholesome program designed to improve performance and skills in certain areas. 
When to choose virtual training?
You can be a virtual trainer if you are a skillful professional in the field. 
Virtual training will scale well and enjoy high demand if you know how to market the program and yourself as a professional.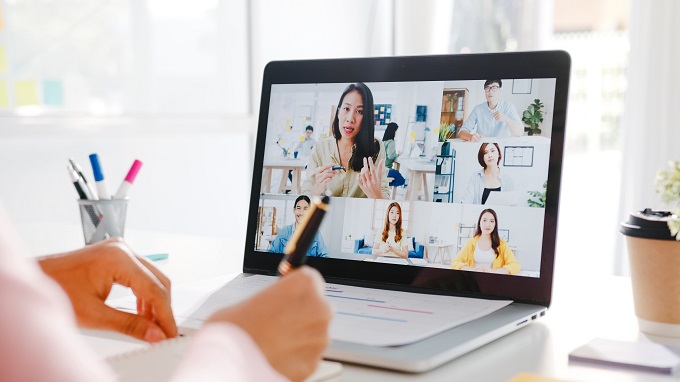 Virtual training is the way to go if you are a beginner but want to make a full-time income through knowledge monetization. 
What is a webinar?
A webinar is a virtual event where the host can cover one specific topic or, in a broader concept, a few topics. It is similar to a training session, yet does not have a logical continuation. 
Webinars are good for awareness, not for performance or skill development. 
For instance, if you are a sales trainer who wants to generate leads for a new sales training program, hosting a webinar is a great idea. You Webinars are usually free and can cover a certain topic or a wider range of topics to showcase the skills & style of the coach or trainer. 
You can also sell webinars related to various topics (e.g., pre-recorded ones).
When to choose webinars?
You can choose to host webinars not only to gain income but rather market your courses, training programs, and other learning products that you offer. 
Webinars are educational and informative but nowadays are widely used to scale & gain visibility rather than a separate product themselves. 
So, our advice if you are planning to incorporate webinars into your marketing is to offer those for free to
Grow your email list when more people sign up 

Grow the visibility of your brand, and you as a trainer

Familiarize more people with your style & generate more leads 
5 main differences to consider
Let's consider the main differences between webinars and virtual training. 
Learner capacities
Learners can learn more from a wholesome training program than from a webinar. 
If you want to sell a webinar as a separate product and not use it as a tool for lead generation, then you must be aware of this fact. Webinars cannot efficiently train participants or enhance their skills but provide knowledge about a specific topic. 
Duration
Webinars are shorter and usually come as a single session. 
Meanwhile, training sessions can last as long as webinars. A whole program takes a longer time to complete as it includes several sessions (e.g., up to 20). 
Objectives and goals
Webinars and training programs have different objectives. A webinar aims to inform and increase awareness. Meanwhile, training aims to improve performance and skills and provide practical knowledge. 
Many won't pay for webinars but participate in free ones. Yet, they will pay a good amount for a high-quality training program. 
Engagement levels
Regarding engagement, everything depends on the host, yet a few aspects vary. 
You must incorporate various tools to boost engagement in webinars and training sessions. Webinars and training programs can be whiteboards, presentations, or even games. 
For training programs, only these can include a wider range of collaborative learning activities, quizzes, tests & homework assignments. 
So, as a trainer, you have more tools in your toolkit for the learners' engagement. 
Besides, students are more motivated & dedicated during virtual training as they know it is not a one-time thing, and their performance will truly benefit if they engage. 
Cost
It is far more cost-efficient or organizes an online webinar. However, you can record the webinar and sell the recorded version too. 
If you want to create e training program, you need huge dedication and time investment. Also, you will need to invest in various virtual tools to enhance the learning experience for the students. 
Yet, profitwise training is the right path to take in terms of scaling, getting more clients & selling for a higher price. 
Virtual training's main advantages
The main advantages of virtual training are:
Allows to reach international audiences

Scalability 

Location Freedom 

Cost-effective in comparison with traditional training 

Enjoys high demand on the market 

Preferable form of online learning 
Webinar's main advantages
The main benefits of webinars are:
Allow to reach a wider audience, inform people, increases awareness 

Convenient to attend as they do not require a long-term learning commitment

Cost-effective

An incredible tool for 

lead generation

. Even though it can be hard to sell it as a stand-alone product, it is easy to use as a free tool to generate leads. 

Allows to increase audience engagement quickly 
Get started with your teaching program
After all, it is possible to host both. Following the best marketing practices, webinars for promotion to grow an email list, and whole training programs as an actual product for sales. 
It is your choice which one to choose as the main source of income or what marketing tactic to choose. Yet, you must have a platform to work with to do anything. 
Uteach is one of the best online LMS platforms available nowadays. It is potent automation that will save a great deal of time on routine tasks and automate various learning processes to ease your journey as a virtual trainer. 
With Uteach, you can build & customize powerful websites, open a blog, sell courses, webinars, live training programs, and even coaching sessions. 
If you are trying to find the best platform to get started on and further expand, Uteach is the way.