Demand for Virtual Training increasingly grows, allowing trainers to make a full-time income without the need to leave the comfort of their homes.
Why? Because it is one of the most convenient eLearning formats nowadays. It allows learners to acquire knowledge in vital areas of life, business, and career in a practical and efficient manner.
So, if you are ready to find out more about virtual training, let's dive into it.
What is virtual training?
Virtual training is a process of the development of an individual's skills and capacities in a specific area in a virtual environment. There is a variety of platforms that allow the hosting of virtual training.
If you plan to start a virtual training business, then choose full-featured LMS automation platforms such as Uteach and Thinkific.
To understand the concept in depth, I suggest we review principles & methods.
Principles
If you want online training to be effective, here are the main principles you should keep in mind.
Use Visuals. Training is not a lecture. Thus, make sure to create infographics

, incorporate presentations,and other appropriate visuals into the learning process. It will greatly enhance the learning experience and help you to maintain attention.

Use a conversational tone. Stop being lovely and serious and rather be conversational as well as more casual. This will help you to increase the trust factor toward you, and appeal more real to your learners, creating a friendly atmosphere.
Utilize appropriate tools. Gamification and a wide variety of tools aimed at increasing interaction and engagement are available to you nowadays. So, take advantage of this era of digitization and incorporate these tools into your training.

Give feedback and make sure to track students' progress. This will allow you to gain a better idea of the performance of your program and make sure participants are satisfied.
Methods
Well, let's dive into the methods.
Live training program with visuals. Live training sessions allow you to give real-time feedback, screen shares the presentation, as well as interact with students more. It is one of the best training methods that contribute to high knowledge retention rates.
Online webinars.Webinars

also allow you to interact with students 1:1 or in groups, yet these are not programmed. They are great for covering one specific topic or area. For instance, you can host a paid webinar to cover the essentials of SEO. Yet, for in-depth knowledge, you must create a training program.

Group discussions & breakout rooms (if you work with a large group). These increase engagement and knowledge retention. Group discussions contribute to the practical implementation & application of the theory learned.
Collaborative learning activities. These will greatly contribute to the implementation of skills & knowledge gained throughout the training into practice. For instance, give students specific problems or real-life business cases and suggest they come up with a resolution plan with their group members.
Games & Quizzes. Incorporate funny games and polls into the session. Also, do not forget about quizzes and tests to gain measurable insights into students' progress.
These are simple, unspoken rules that instructors and students must follow to provide a high-quality learning experience.
Why choose virtual training?
Virtual training opens up unlimited opportunities for growth, learning, and scalability. First of all, it is a more convenient form of learning nowadays.
Here's a review of some of the virtual training benefits for you to consider diving deeper into it.
Time & Location flexibility. You are in charge of your schedule. Moreover, you can host the training from anywhere you want.
Due to access to international audiences, you gain limitless scalability opportunities.
It is cost-efficient and requires minimum start-up investments. You won't have to spend resources on renting a space or physical equipment such as projectors, etc. Instead, focus on training experience, and purchase a platform to host training alongside with few virtual tools.
Automation. A proper platform for virtual training will allow you to automate various routine & repetitive tasks saving time and increasing ROI.
High demand. Online training enjoys high demand on the market due to its convenience.
Limitless tools & techniques to keep the audience engaged. For instance, survey & poll makers, quiz builders, online whiteboards, and tools allow collaborative learning.
Virtual training types
It is time to review virtual training types.
Web-based training. This is a type of training that is delivered through a web browser. You have a website and live functionality through which you deliver training & materials.
Virtual Reality or Augmented Reality training utilizes AR & VR technologies to provide a hands-on learning experience.
Computer-based training is about the delivery of the training through software installed on the computer.
Video-based training/online courses. This type allows to delivery of training in a pre-recorded course format.
Virtual Instructor Led training

. Delivery of the training via Live, where the instructor is present and gives instant feedback/answers to questions while explaining training material.
We recommend VILT (virtual instructor-led training) in combination with providing web-based learning for the best possible results and efficiency.
What is required for virtual training?
Well, let's also take a look at what you must have to start a virtual training business.
Platform
First of all, you must have a platform.
LMS platform is software that allows you to build & customize a website and provide online training, coaching, or courses. Many platforms are available, yet it is vital to choose the right one.
The best platforms are those that are:
Highly customizable

Offer end-to-end live functionality

Feature-rich (e.g., website building, course building & marketing tools)

SEO-friendly
Also, good platforms must offer automation for routine tasks to save time and increase productivity. Examples of such platforms are Uteach, Thinkific, and Kajabi.
Training Materials
For successful virtual training, you need high-quality training materials. These can include guides, instructions, videos, PDFs, e-books, audio, and even podcast episodes.
You can add both third-party resources, such as links to additional readings, and the ones you have developed. Make sure training materials are developed according to the program outline in order to be aligned with topics and goals.
Courage and Patience
Virtual training also requires courage and patience. You won't get thousands of clients upfront, but if you keep working on improving your training and brand awareness, you will get to that point.
Plus, you will need some patience to work effectively with different students. Everyone has a different background. Some are fast learners, some slow; your job is to help them improve and acquire the skills they need.
All you need is knowledge, courage & patience to achieve the desired results.
Best 5 virtual training platforms
Well, let's review the top 5 best platforms to create & host virtual training with.
Uteach
Uteach is a feature-rich digital platform that will be a helpful tool for your virtual training. It includes LMS features and beyond. Let's have a closer look:
Website. First, Uteach allows you to create a website without any knowledge of coding. You can include all your courses, digital library, and products for sale in one place.
Mobile App. Uteach provides you with a mobile app allowing you to provide a mobile learning experience for your students.
Marketing. You get white-labeling tools, SEO optimization, and third-party integrations with Uteach. It's super easy to grow as a business with those options.
Uteach is the ultimate platform for a digital trainer. You can create and teach via the website, streamline with the app, and promote your business with marketing tools.
TalentLMS
TalentLMS is a website that provides you with different tools to create and market your content. A variety of features are designed to help you with building and selling training programs, managing those, and scaling. TalnetLMS also offers white-labeling options.
Zoom
Zoom is one of the most famous video-conferencing platforms. It is very convenient for conferences, virtual meetings, and presentations.
So, you can easily use this platform for virtual training. It allows you to connect with people from anywhere using any type of device.
Microsoft Teams
Another good platform for virtual training is Microsoft Teams. It offers Video-conferencing & Collaboration features. Plus, a course builder allows you to build courses with engaging exercises and materials.
Skytap
Skytap is a platform that allows you to create digital courses easily. It provides you with a basis for both instructor-led training and on-demand training. The best part is the Learning Console which includes all the tools that you need to manage your virtual training.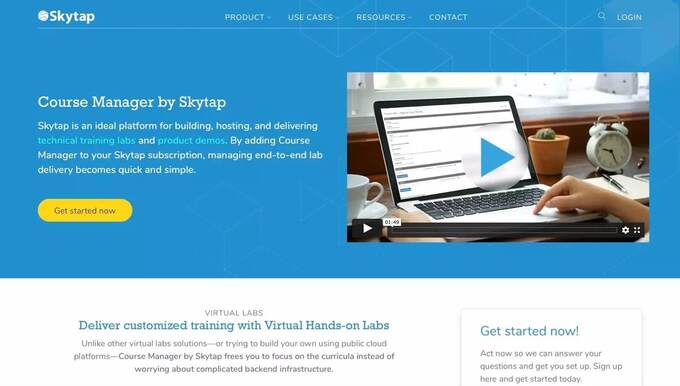 FAQ about virtual training
Let's also take a look and answer the most common questions related to virtual training.
How can I evaluate the effectiveness of virtual training?
Evaluating the effectiveness of virtual training is not easy, yet it is possible. You can do so through:
Tracking the results of tests and student progress

Purchasing a tool that has a built-in analytics feature

Asking for feedback
How much does it cost to start Virtual Training Business?
Virtual training business requires low investment costs. If you already have a good camera, then invest in the microphone and a platform. You can also get paid for collaborative learning tools. The cost will vary between $150 to $350.
What is the Income Potential of Virtual Training?
It varies from industry to industry. Yet, here is the approximate pricing.
The typical price per hour is around $50 to $150. However, established trainers charge up to $300. For wholesome training, the program cost varies between $800 to $3000 per individual.
So, if you get 10 clients for one program (e.g., 2 months),charge each one $800 - $1500 (as a beginner),and you will make around $8000 - $15,000.
How long does it take to create a training program?
It really depends on your commitment and the free time available. Usually, you can get it done within three weeks.
You can dedicate week 1 to proper audience research & marketing strategy creation. Week two can be dedicated to training material development. During the final week, you can get the LMS platform to build & customize your website. Also, you can revise the work done throughout the past weeks and make improvements.
Start your training now!
It is your time to get started.
Virtual training is a scalable industry that will allow you to be your own boss. So, if you love training others and contributing to growth, it is time to monetize your expertise and skills. Uteach will allow you to do so.
It is a potent LMS automation that offers each and every necessary feature to provide a high-quality learning experience. With Uteach, you will get a website & course builder, built-in SEO, ready-to-use templates, live functionality, integrations, and many other cool features.
Uteach is with you all the way toward success.