With the growing demand for virtual training programs, it is time to understand why and how to convert your classroom to virtual training. 
So, if you are ready, let's start!
Why convert from classroom training to virtual training 
In this era of digitization, you will gain many more benefits through virtual training instead of traditional programs. 
Virtual Training comes in handy with many up-to-date pros & opportunities for students and instructors. For instance:
Flexibility. It is undeniable that VT is the most flexible form of e-learning; it combines both formal & informal learning and encourages participation, yet utilizes technology & various other tools to enhance the overall learning experience. 
Location & Time freedom. You won't be tied to certain time frames or locations anymore. In the world of e-learning and virtual training

, you are free to choose a location and time to work. 

Higher engagement levels. It is much easier to keep students engaged in virtual spaces than in offline settings nowadays. First of all, no one gets tired in the transportation and does not have excuses for being late. Secondly, you can incorporate various gamification tools to improve engagement levels. 
Automation. When you create quizzes, tests, and assessments, there won't be a need for manual checking and tracking of the results. With VT, you will have to use an LMS platform that automatically checks the results and provides you with students' learning progress data. 
Tracking & Analytics have become easier than ever before. With Virtual Training, you can track not only student progress but also sales & other marketing KPIs. Therefore, you will get a chance to efficiently analyze & evaluate the data to improve your further marketing strategy. 
More convenient. Nowadays, virtual classrooms

and training programs are far more convenient for everyone.

Get access to international audiences. You will be free of location barriers regarding where to work and who your clients can be. As a virtual trainer, you gain better business scalability & access to a worldwide audience. 
Saves Time & resources. You will also save lots of time & resources on transportation, physical equipment & renting appropriate spaces.  
And all of these are just some of the perks of virtual training, but they are the primary ones.  There are multiple other pros you, as a trainer, can gain.
So, if the freedom of being your own boss & being free of any limits is for you, then keep reading to find out where to start. 
Getting ready to go virtual
First of all, you need to understand where to start. 
There are multiple steps to complete, but as we promised, we are going to deliver a simplified guide for you. 
So, if you are ready, let's go! 
Digitalize your learning materials 
To successfully convert your Classroom to Virtual training, you need to digitize the materials in your classroom setting. 
For instance, if you use whiteboards, there will be a need to find whiteboard software. For presentations, you will need to find a video conferencing tool that allows screen sharing. 
All the other materials you utilize must also be converted to a digital format. 
Plan out your learning track 
The next step will be to plan out the learning track. Take a look at the course outline & learning objectives and adjust sessions that would not be efficient in an online setting. 
Plus, keep in mind that online training allows you to deliver more information in a shorter period. You can start hosting 30-45 minute sessions instead of 1-2 hour ones. 
This way, not only will learners stay engaged throughout the whole session, but you also will have more free time. 
Do not forget to encourage students to participate in discussions and Q&A sessions.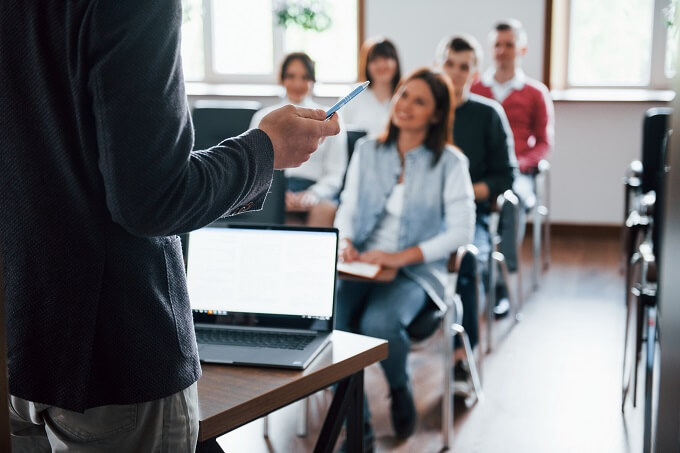 So, if you plan to convert the classroom to VT, revisiting your learning track is an essential point that cannot be missed. Adjust the timing, topics & assessments to ensure that they first to a virtual format. 
Choose a Platform 
The last step after you are done with digitizing learning materials and adjusting the course to fit virtual standards is to choose an LMS platform. 
If you want everything to go well as planned, then the platform of your choice must offer the following: 
Automation. This will allow for the automation of routine & repetitive tasks related to sales, marketing & various reminders. 
Website Builder. A great platform must offer easy building opportunities without additional coding skills. This feature is especially important if you want to establish your virtual training/e-learning business and its further expansion. 
Course Builder. A powerful tool will provide you with a course builder. 
Branding features, including white-labeling & custom domains
Good user interface that is beginner-friendly and offers an enhanced experience 
Pre-made website themes & various templates that are compatible with customization 
Powerful analytics feature to keep track of students' progress & marketing activities, as well as the overall performance of your business. 
Build in live functionality. A great platform will also offer a live tool that will allow you to host live sessions. One platform that offers first-in-industry end-to-end live features is Uteach.
Membership opportunities. As a learning website, a good income stream could be a subscription to certain audio or video content. So, it is highly recommended that you choose a platform that allows you to build a membership website. 
After all, the whole purpose of the LMS platform is to ease up your life and help you with business management. 
The Top market leaders are Uteach, Thinkific & Kajabi. 
All three platforms offer similar functionality, yet Uteach wins in terms of more features while offering better pricing. 
How to make your virtual training engaging 
It is time to review a few practical tips that will help you keep the VT engaging. 
In this era of short attention spans and dynamic life, these tips will greatly help you. So, make sure to read carefully and even take some notes. 
No long sessions 
The first tip that we would like to share is to keep it to the point. Long sessions will get boring, and the original focus will most likely be lost. All of that will greatly decrease the productivity and efficiency of the session. 
Therefore, keep sessions short of ensuring high quality and efficiency for the students. Make sure you have a learning objective for each session that will help achieve the learning outcomes of the whole training. 
To wrap up, keep your sessions short and sweet yet focused on achieving the main goal. 
Many slides 
Also, if you want to ensure that the material is delivered efficiently, then use many slides in your presentations. 
Stop putting all the concepts and information in a single slide. Break down the topics; the niche concerts related to a bigger topic into different slides. 
More than 65% of human beings are visual learners. Therefore, you can greatly use this to your advantage by organizing and presenting information bit by bit. This will make the overall training more comprehensive, visually pleasing, and effective. 
The smaller the groups, the better 
Also, keep in mind that in order to achieve efficient learning and deliver results, it is better to keep the groups small.
Do not form groups with lots of participants. This will be time-consuming and inefficient. 
Instead, organize groups of 3-5 people. Through organizing smaller groups, you will be able to:
Better maintain the focus 

Keep everyone engaged and involved 

Have in-depth discussions where no one feels left out 

Host more effective Q&A sessions 

Deliver better results & learning experiences for the participants 
Gripping Q&A 
Efficient learning can only take place with Q&A sessions. Therefore, ensure that you have a time slot for that. 
Answer the questions the participants may have, let them answer each other's questions as well, and correct if wrong. 
Q&A sessions not only improve the learning experience but also help participants to acquire new information better. 
Convert to virtual training with Uteach 
You can easily convert your classroom to virtual training with Uteach. 
Uteach is potent automation that will provide you with all the necessary features & tools to host virtual training programs successfully. Besides, you can sell both physical & digital content, offering e-books, audiobooks, pre-recorded courses, live webinars, and blended learning experiences. 
The pricing of Uteach is simple & affordable. It comes in handy with lots of third-party integrations & end-to-end live functionality. 
So, if you plan on the creation and expansion of successful virtual learning businesses, then Uteach is the perfect fit for you.