Companies and individuals heavily rely on virtual training nowadays. Virtual Training comes in handy with many advantages, including lower costs, and it remains more convenient in this era of digitization. 
With the growing demand for Virtual Instructors, there is growing competition in the industry. Therefore, it is vital to know must-use methods, strategies, and tips to stay or get to the Top. 
So, if you are ready, let's start! 
Top 7 methods to create engaging virtual training
Throughout this article, we will dive deeper into the practical methods & frameworks you can use to create more engaging virtual training sessions. 
Industry experts research, assess, and test all these frameworks. So, let's see what the successful ones offer in common. 
Visualized lesson material
According to worldwide statistics, more than 65% of people are visual learners. You can use it to your advantage in so many possible ways. 
Here are a few reasons why visuals are considered to be the most potent aspect of eLearning:
According to various studies, images & graphics visually get stored in a long-term memory that makes the process of acquiring new knowledge through visuals more efficient.

Visuals make the material more comprehensive as they allow learners to associate concerts with graphics while also outlining the key terminology.

Visuals stimulate emotions.
Visuals make the overall training more interesting and engaging. Imagine a trainer lecturing about a concept, and imagine them sharing a presentation. It would feel different, wouldn't it?
Plus, implementing online whiteboards and presentations nowadays is more professional than just lecturing on the topic. 
Here are a few tips for visuals: 
Assess your training materials & outline, highlighting the important concepts to include in the presentations 

Create presentations that match your overall branding to stand out from the rest 

Use Free YouTube tutorials to create amazing presentations on PowerPoint that will take the learning experience to the next level. 

Learn about online tools such as whiteboards and how to use them

Utilize 

Canva for Education

, with which you can customize pre-made infographics & presentations or create new ones forms scratch 

Do not put too many graphics or text on one slide; make it short & to the point

Choose graphics that are large and simple.
Group discussions
Go for group discussions if you want to level up your VILT sessions. 
Group discussions will benefit the training in multiple ways, including:
Improved engagement levels & attentiveness of students to the training 

Better acquirement of the new material in the training 

Promotes a more in-depth understanding of the topics 

Contributes to long-term retention of the information
Multiple other benefits come in handy with group discussions. 
A Pro Tip for you is to keep smaller groups of 3 to 5 people. This way, you will ensure that there are not 1 or 2 people dominating the discussion, but it involves every participant. 
Brainstorming
The power of brainstorming is undeniable. First of all, it instantly makes students engaged and improves the interaction element of the training. 
Secondly, brainstorming is a vital part of the training in most informal education topics. This way, you will encourage creativity and innovation in your students. 
Some of the key benefits of brainstorming include the following:
Quick & easy in-class activity that instantly turns up the level of engagement 

Student-centered activity which encourages their thinking abilities

Contributes to the development of creative thinking

Creates a better atmosphere for further learning to take place

Greatly contributes and even strengthens problem-solving skills
Here are some brainstorming techniques. 
For instance, you can ask students a question or give them a problem to which they have to brainstorm solutions. 
Brainwriting. This method is quick and simple. You give students the topic, and everyone writes down three ideas related to the topic or three solutions related to the given problem. Afterward, they share it and develop a discussion.
Rapid Ideation. To get the most out of everyone, you can use the rapid ideation technique of brainstorming. Give students the problem or topic and a time limit. Then, allow them to write as many ideas & solutions as they can during the given time frame. 
Mind Mapping. One idea can create multiple other ideas. Therefore you can use this technique to encourage students to come up & share with good solutions. Throw out a solution or an idea, let them discuss it, and come up with new, better ones. 
So, brainstorming is a must-use training methodology to ensure successful learning. 
Collaborative training
Another method to improve the student learning experience is collaborative training. 
Collaborative training is widely used in corporate training and is proven to be efficient. The main idea behind this is to allow participants to share their knowledge and expertise. It also includes incorporating various collaborative learning activities to enhance the learning process.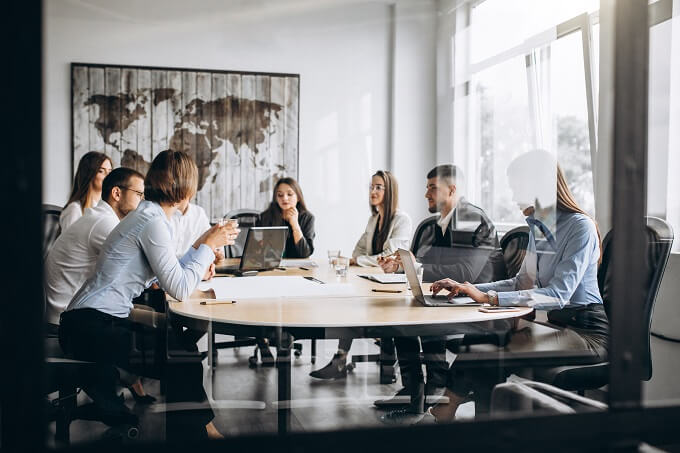 Here are a few examples of collaborative learning activities you can use throughout your training sessions. 
Peer learning. Throughout peer learning, you peer two people in the group together. Then you can provide them with a problem or topic of discussion to share ideas with one another and come up with a summarizing conclusion related to the topic. 
Peer reviews. Peer review

is a simple activity in which students review one another's work and give each other feedback. This helps to develop critical thinking skills as well as objectivity. 

Jigsaw method

. If you train a larger group of 10-20 people, divide them into smaller groups of 3-5. Give each group a certain task that makes up a whole project. E.g., discussion of certain parts of a reading/video or a movie. 
Collaborative learning greatly contributes to a better learning experience and more efficient training that drives better results.  
Mentoring and coaching
Another method you can use in training is being a mentor or a coach for the participants. Leave most of the thinking on them and guide them toward finding the right solutions. 
This is a great method that helps to develop critical thinking in oneself and better understanding and self-awareness. However, this only applies to some topics. You should carefully assess your area and then realize whether or not you can implement mentoring or coaching techniques in your training. 
Quizzes
Implementing quizzes is another method to take your training to the next level. 
Quizzes are of great help in multiple ways; for instance, they:
Motivate students to stay more attentive to get better results 

Create interaction & engagement 

Help students track their progress & level of in-depth understanding of the material. 
Plus, quizzes allow you to gain an overall understanding of the students' performance. 
eLearning via Videos and eBooks
Also, you can incorporate Videos & eBooks in your training. 
These will provide participants with additional resources that will improve their learning. 
How to choose a method for your needs?
In order to make the right choice and understand what you need, you must assess your situation. 
Simply put, you need to:
Know your target audience to deliver content & materials optimized to their needs

Have a training program outline with its objectives 

Consider all the criteria that lead to effective VILT delivery 
So, remember the learning objectives and to whom you want to sell your training program. 
Top 6 helpful strategies and tips
Well, now it is time to review the top 6 helpful strategies and tips to level up your VILT sessions. 
Have everything ready in advance
The first piece of advice we want to share is being prepared. 
Effective VILT session is not an improvise. You must know in what session what topics will be covered and how much time it will take. Each session should have its outline & objectives that correlate with one another and help achieve the program's primary goals. 
So, ensure that you are all set in advance. However, this is related to more than just training scripts and materials. As a facilitator of virtual training, you must also ensure that all the equipment is set and works fine before each session. This will help to avoid force majors and deliver better quality. 
And we all know that better quality and user experience will contribute to better ratings & reviews. 
Keep the engagement up
The great outline only guarantees results if students are engaged. Active discussions and participation make students more attentive and better acquire the material taught. 
Therefore, ensure that you implement various tools & techniques to keep the engagement up. 
Here are some tips for you:
Create Quizzes & Assessments. These will help you to keep track of students' progress. Plus, they will help keep students engaged and involved throughout sessions for better completion of the assessments afterward. 
Implement games & various activities during the session. There are various gamification

tools to be utilized and create better user experiences. 

Encourage debates & polite discussions related to various training-related topics. 

Host Q&A sessions where you also will allow participants to answer one another's questions. 
Create short surveys and polls for participants
Start with creating a healthy and motivating learning environment. An environment where students will be motivated, encouraged to learn, and safe to speak up is the key to the success of the training. 
Don't be too formal
The next tip is not to be formal. 
Training is considered informal education, so you do not have to act like a professor and lecture everyone around. Have fun with what you are doing. Yes, professional etiquette is vital for establishing authority and building trust. But people nowadays want to see and know you for who you are.
So, do not be overly formal, make jokes, and stay true to yourself. 
Make the session fun
Make the session fun. Joke around and use icebreakers such as memes. You can casually have memes on the slides of your presentations where it is relevant. 
This will greatly improve the quality of the session and renew the atmosphere. 
No long sessions
Forget about long sessions. Do you want students to be bored and forget about half of what you said? Well, if not, then you MUST remember long training sessions. 
Make an outline, have a script, and approximate timing you will spend on each topic covered. This will help you to keep the focus and attention of the audience. Most importantly, that will help you to avoid boredom and water in the session. 
Ask for feedback
Last but not least tip is to ask for feedback. This is actually a whole strategy. Feedback can greatly help you out in the future. If it is positive, then you can display it on your website as a customer testimonial and recommendation. 
If it is not positive but rather critical, you can use it to improve your training programs further. The key here is not to take it personally. You are a brand that offers a product with feedback related to the product. And everything can be improved. So, instead of getting sad, just keep working on the product.
Bring your training to life
A not less important aspect of successful training is the choice of the right LMS platform. 
This is a must-have point if you want to bring your training to life. There are various platforms available on today's market, yet one of the top-notch ones is Uteach.
Uteach is potent automation that allows creators & instructors to bring their ideas to life, successfully monetizing their knowledge. It is the perfect platform if you plan on building a business and expanding it further.
You can take advantage of the easy user interface, website & course builders, pre-made templates, as well as powerful automation for routine tasks that will save you a great deal of time. 
This is your sign to start.