One of the best ways to deliver content, and share information is doing it through videos. Video is an amazing tool which enables you to truly connect with the audience.

Nowadays, informative video content is your most potent weapon for generating leads and maximizing revenues. Furthermore, according to statistics, 88% of people tend to learn material faster if it is taught on the video.
So I suggest that we dive deep into this topic, and understand how to create Engaging Training videos.
What are training videos?
A training video is simply video-based material that demonstrates how to do something.
A video learning program is dedicated to educating or instructing viewers on a certain topic to teach a skill or share knowledge, whether it's employee training, a software lesson for consumers, or a broad topic like how to change your life, become happier, etc.
And it is worth mentioning that training video programs are on the verge of popularity right now and will stay there for a long time.
Types of training videos
There are many types of training videos available out there, starting from simple YouTube video tutorials to professional training programs taught by experts and coaches. Our goal is to focus on professionals, and learn from the best. To start from scratch let's review the main types of training videos.
Virtual Instructor-Led training video
Virtual Instructor-Led training is a type of training that is held in a virtual environment; the purpose is to replicate the experience of traditional training but in an online manner. You can find many examples of such videos in Coursera, Udemy, and Uteach. VILT training programs are highly efficient and show a high-user engagement rate, especially if the videos are made according to general Engagement rules and techniques. Which, by the way, we will review later on in this article.
Screen Recording training video
This type of training video is a screen recording and voiceover; it is usually held for software training or demos. Those types of videos are beneficial and are used by most companies for customer support instead of simple but at the same time confusing FAQs. Example of a Screen Recording training video for gamers you can review over here.

How-to training video
Those videos are widely known as "demonstrative" videos. Here usually, an individual shows "how-to" to perform a certain action or complete a certain task. However, it may be about broad topics such as "General tips on how to become wealthier", where an individual shares general advice & tips on a particular topic, rather than performing it on the video. Example of a How-to specific video, and a How-to general video.
Animated training video
This type of training video is becoming more and more popular among video-content consumers. It is a new format, and it is quite interesting. Examples of such content can be animated videos from the Pencilmation channel on YouTube; take a look when you have time. Those videos can be made on several platforms, and actually, it is not as hard as it may seem. Examples of such platforms are Toonly and Animaker.
Interactive training video
The interactive Training video is a type of training video in which participants get to interact with the content. They are the most time-consuming to create but also the most learning-efficient ones. For example, when a user watches a video, they get to choose what to do next from the presented few options, e.g., take a quiz or a test, continue to the next video, or review the presentation of the main points of the training. If you are interested in the creation of this type of training video, training program, then I recommend you to watch this video for starters.
How to create training videos?
Now that we are fond of the key types of training videos, I guess it is time to create one, isn't it? To do so, let's go through the main stages.
Stage 1 - The idea
Everything starts with a simple idea and a bit of motivation. To keep up, you will have determination and courage, for sure, but now we are on an idea stage. So, think about what video you want to create, for who, and why. What are you an expert in, and can help others to master as well. You can give yourself a break, and your subconscious will still think about it; when you come up with an idea, make sure to write it down somewhere. Also, you can apply several brainstorming techniques to get a list of ideas right away.
Rapid Ideation is a highly effective brainstorming technique. The point is to give yourself a limited amount of time, e.g., 10 minutes, and write as many ideas as you have on the piece of paper. Then take a look at those and start crossing, eliminating the "not so good" ones to find "The Idea".
Stage 2 - Equipment
It may be pricey, but hear me out, if you are committed to what you do and you want to continue doing it, in this case creating virtual training videos, then at one point in time, you will need good equipment. If this is your first time, there is no need to buy a 2000$ camera, the cameras on today's smartphones are quite good. However, you will still need to buy some equipment for lighting and a tripod.

Stage 3 - Set Goals & Expectations
You may think that this part can be skipped, but setting goals and expectations is as important as any other step. This is a thing that will benefit both you and your students if present. First, you have to know your goals and expectations to create an effective learning program, to generally know where to start with training video creation.

When it comes to your trainees, though, they will know what to expect after your training; they will understand whether they really need your course and how that might benefit them. You can think that it's better to have as many students as possible but remember that if they are disappointed – they may criticize you, which will ruin your reputation and will repent from your training videos.
Always think a few steps ahead and be patient.

But how to set the right goals? There is a technique containing five components – the SMART technique. Basically, your goals should be specific, measurable, achievable, realistic, and time-specific. Your students would like to see certainty in this; you want to build trust between you and your trainees, so setting SMART goals is essential.
Stage 4 - Script
And here comes the part where you should work on the content. Remember: the information you provide must be relevant, reliable, niche-specific, and useful. Apart from that, you have to present it interestingly and engagingly, so the information actually "gets stored" in your trainees' heads.

It would help if you also considered writing a script before recording your training videos. It will help you to pace your speech: if you go too fast, your students won't grasp what you are saying; if you go too slow, they will forget the point you were leading to by the end of your sentence. This is essential to your success!
Stage 5 - Design & Presentations
Okay, you outlined your goals & expectations, you prepared your script. Now, it is time to wrap it all up in lovely packaging. Why are good visuals important? See, they help to convey information more easily and more effectively. Bad visuals can distract people from paying attention to the content, which is undesirable!

Apart from close-up shots of yourself talking and explaining, you may consider doing PowerPoint slides to illustrate your points and to place the main objectives on the screen.

PowerPoint actually provides really nice design suggestions – perhaps not very unique or creative, but definitely working and simple. Honestly, you don't need to develop an outstanding, well-designed thing. Just remember a few things: use golden rules of proportion to place all the slide objects harmoniously, a simple color scheme containing 2-4 colors, and put only the significant elements.

Another tool you may exploit is Canva. It provides many more design options (apart from .ppt files) that simply look better than PowerPoint ones. Canva offers premium membership or a usual one with a great variety of free templates.
Do not forget about your video! You may do remarkable presentation slides, but with bad video editing, it won't matter, which leads to the next step.
Stage 6 - Record and Edit
Assume you already did everything, now it is time to shoot some content, remember about market trends, which tell us we need 4k videos and high-quality editing. It is going to be a bit tough, but once you have created the material you can use it for years, so believe me you want to put an extra effort here. To start with making sure your equipment is set correctly, pay extremely high attention to lighting.

And of course, check out a few simple tips & tricks down below which will help you Shoot Videos like a Pro.
Environment: Decide where and when you want to shoot a video. Make sure there is no background noise, and the background itself is simple so that learners will not be distracted by an object and rather will focus on you and the material. It is the simplest way to catch users' attention.
Use a tripod and take close-up shots: Noone wants to see how your video is shaking, it may make some people even annoyed. Use a good tripod in order to make everything stable.
Speak up: When you talk, pay attention to your body language and intonation, you do not want to sound like a "silent tree" or "loud uncle". Record a few 30-second videos to understand, and try different intonations in each of them. Then take a look at those to realize which one sounds better, and keep on shooting all the other frames using correct intonation, and voice pitch.
Body Language: Again do not overdo it, do not underestimate its power as well. Use your hands, gestures, and open postures to help the audience trust you from the other side of the screen.
Frame Properly: You can apply the rule of thirds

over here.



How to make training videos engaging?
Let's move on to our next Vital point, which is answering the question on how you can make training videos engaging, it will give you (as a trainer) essential "life-saving skills". If you think it is hard, you are wrong, sorry, but you really are wrong. Just apply these simple techniques and you will be amazed at how easy it really is.
Background noise, too many objects in the frame, bad video quality, glitches – sounds annoying, doesn't it? Yes, it will be annoying to your students, too. Not only annoying but also distracting. As they're getting distracted, they will not be productive, which works against them and, therefore, against you. So, please, make sure that your recording equipment is good and record your videos in a silent place. I know some of you live in big cities where it's super noisy, even at three in the morning. For that, use sound isolation panels. They are pretty cheap and accommodating.

If you can present the same material in less time, why not do that? You will save both your and your students' time (and you should value their time). I doubt that they are bored and have a lot of spare hours in a day. And I assume that you do not spend most of your day at leisure. So please, spend a few more minutes making your material more compact – it will result in saving hundreds of thousands of minutes

Encourage participants to take action
Create interactive quizzes and small educational games that will make participants feel engaged. Remember, they signed up for your training program voluntarily, so make them know it's worth their time and effort.

Wait, wait, don't cringe! I know you probably heard too much of this in the school, but consider citing your sources. First, it will show your trainees that your materials are reliable. Second, they may want to look up the original source (if the idea wasn't originally yours) to maybe get a better understanding or to review the material.

Additional educational materials
Coming from that, add additional readings or any other form of materials. Trust me; they are helpful. If a person wants to succeed in something, they will seek more information, and you are the one to guide them through this journey.
Give your participants motivation to learn, include Quick Learning tips on one of your presentation slides. Explain to them the ways they can comprehend the training material easier.

Quizzes are a fun and easy way to review materials and check how your students understand your training course. You can do little quizzes before and after each session. The first one is to remember the previous lesson's material; the second is to consolidate the information that they just learned. You can use Google Forms, Kahoot!, Mentee, and other platforms to create your quizzes with a few clicks.

Provide award certificates
As we just learned, motivation is the key to success – both of your students and your training course. Another way of motivating them is to praise them and show that their efforts are not wasted. And award certificates can come in handy here. Although it is literally a picture with a nice phrase written on it, you will not believe how effective it is.
You want to make your course best for your students. Therefore a bit of feedback won't do any harm. On the contrary, it will show your trainees that their opinion is important (+10 points to trust) and will help you to navigate your video training to the next level.

Congratulate for every small achievement
Engage yourself in the role of a supportive parent that congratulates their child on every little step they take. Tell them verbally that they're doing great, show some affection. Your students will fall in love with the course and work twice as hard to succeed.
However scrupulously you planned your material, some things may be unclear for your students. A good thing to do is leave a bit of time for questions to answer without any rush; otherwise, there will be no point, as your quick answers can confuse your students even more.
Don't just simply read the information off of the list like a priest or a robot – your students can read themselves, thank you very much. Be humane and interact with the material, show emotions, joke; in other words, break the ice.
What are the best platforms for hosting training videos?
When it comes to platforms, the choice is truly hard. There are tons of platforms available out there; however, you have to make sure that you are making the right choice in this competitive industry.
WordPress, Wix & Other Website Builders
Of course, those are giant and powerful platforms to build your website on, but these are clearly a wrong choice for anyone who wants to avoid extra costs such as: hiring a developer, paying for hosting services, etc.
Uteach
Uteach is one of the best choices in this category; it is a win-win. First of all, you do not have to worry about hosting, and you can create a website in just a few clicks. Secondly, you can use a free plan for starters and pay nothing literally while making a profit. And thirdly, if you decide to try out the paid plans, which come with amazing benefits, you will get a 14-day free trial run.
What can you do with Uteach? Simply speaking:
Create a website in a matter of minutes

Publish materials in a few seconds

Have a separate blog

Design using ready templates

Customize anything you would like
Uteach is a website builder that saves your time, energy, and money, along with providing you with an incredible opportunity to expand your online teaching/coaching business.
YouTube
YouTube is another popular platform to create training videos on. However, you will not be directly selling those, you still can monetize your content after reaching the particular amount of followers (1000) and hours users spend watching your videos. It is a good choice, but I will recommend considering it as more of a "side hustle". Because over there, your income is highly dependent on algorithms.

Coursera
The last platform for great training video creation for today is Coursera. It is a course- creating platform established by Stanford University, so you expect it to be great. And it is! It has a wide traffic which will make your course more visible and more likely to be chosen, it collaborates with hundreds of universities and companies and, most importantly, it can be used to create a training video course in a matter of a few clicks.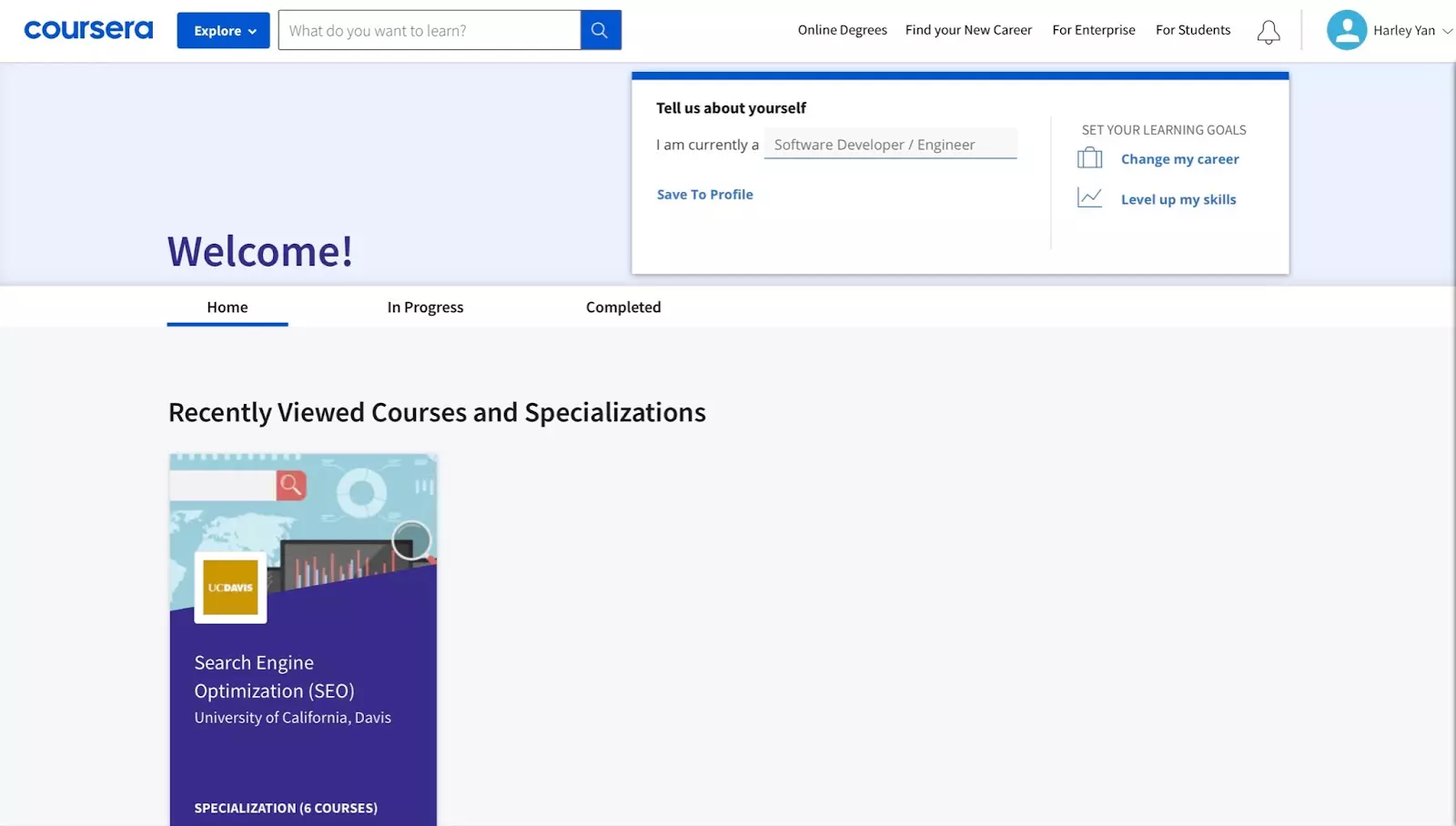 Best examples of training videos
If you are reading this part right now, that shows how committed you are to your job. Keep on reading!
We are finally presenting the best examples of training videos that will give you practical ideas on how to hold them and how to use all the tips & tricks in real life. All those creators create content absolutely for free, so you can watch them on a constant basis and learn every vital skill to become a great coach.
1․ Mel Robbins
Mel Robbins is a famous motivational speaker. Even though she is not doing personal life coaching sessions, you can still learn a lot from her. For example, her Ted Talks, the way she interacts with the audience, her voice intonation, and how that all still looks and sounds good on the camera for people who were not able to participate in offline TED talk. I would recommend watching a few podcasts and talks of her and taking some notes in order to learn the main tricks she uses to sound better.
After the note taking process, read those once again and start implementing some of her tricks in your videos, you will be amazed how much better you will start to sound.
2․ Amie Leadingham
Unlike our next three coaches who speak directly on the camera, Amie is a famous and successful dating coach who still has many media video-format interviews. Firstly, you can take a look at some of those interviews and pay close attention to her body language, along with voice pitch. And my recommendation here is do not to be ashamed, and if you want to learn from the best, contact her directly from her website and ask her to share some tips she uses to look and sound great on the camera.

3․ Project Life Mastery
This guy is a truly amazing professional who creates "How-to" and "instruction" videos on YouTube. His channel grew so fast due to the high quality he provided. To learn how to keep your intonation and voice tone right, how not to sound boring while explaining a complex topic and how to use whiteboard along with good body language" in frame", just carefully watch the video down below very carefully, and take some notes on how to act on the camera.
4․ Adam Khoo
Adam Khoo is a professional in his field, and the way he teaches you "to do stuff" with youtube videos is just amazing. Not only is his content available for free, but it is also a popular topic right now; he teaches how to make your money work for you. So, if you want to become a great coach, learn to speak on camera, be engaging and at the same time learn a thing or two about investments, check him out.
5․ Practical Wisdom - Interesting Ideas
Practical Wisdom is an open-source YouTube channel that not only gives us insights into Practical Wisdom and everyday life skills but also does that with high-quality animation videos and amazing voice intonation. I will recommend paying good attention to the voice pitch and tone; it keeps you engaged just because it sounds nice and earns trust.

Also, take a look at "18 best coaching websites in 9 different niches" article to create the best coaching website you can.
Final Words

Following the points that are mentioned above, you will increase the level of student engagement with the valuable courses you present on your online teaching platform.
Along with the increasing number of engaged students, you become more experienced as well as required in the market. People who look for educational material you offer will choose your courses as there are many other learners satisfied with the pieces of knowledge and experience you share.
If you want to get your own online teaching platform where you will be provided with the most advanced features to engage your present and potential students then schedule a demo and get familiar with the features Uteach offers.
You will create a website within minutes that will become the face of your business.