If you want to become a better instructor and make sure that virtual classes are proper & efficient, then you might want to keep reading.
In this article, we will cover everything related to virtual instructors, starting with the concepts and ending with the key roles & practical techniques on how to become a better instructor.
So, if you are ready, let's start!
Who is a virtual instructor?
First things first, let's get clear on the definitions.
A Virtual Instructor is an instructor that hosts and delivers training programs virtually. The training, in most cases, is delivered in real-time with the utilization of various video conferencing tools such as Zoom. However, it can be delivered in a mixed setting, including live sessions and pre-recorded classes with discussion forums.
How does the right instructor contribute to the training?
As far as we are clear on the definitions, it is time to move on to the next point. And this is all about understanding how the right instructor contributes to the success of the training.
So, here is an example of two instructors:
One of them is well organized, thoughtful, supportive, an excellent listener and communicator, as well as equipped with the necessary technical skills.
Meanwhile, the other one is still a good listener and communicator but lacks the technical skills and skills to set SMART goals.
Who do you think will be better at virtual training?
Indeed, the first one. The first instructor will be able to set clear goals for the training program, which will help them to develop a plan for keeping students motivated throughout. Besides, the training will be engaging due to organization and technology utilization skills.
So, the right instructor will make the training engaging, keep the students motivated, and, most importantly, set & achieve the goals of the training. These all will allow them to deliver the promised results and contribute to positive publicity.
5 major roles of virtual instructor
Now, let's jump into the KEY ROLES of a Virtual Instructor.
A quick overview of those is that you will have to perform more functions as a virtual instructor rather than just educate on the material. You should be able to design the courses in terms of both visuals and content. Also, as a Virtual instructor, you are the one who facilitates, guides and motivates students.
Instructor as a virtual course designer
You, as an instructor, are also a virtual course designer. And in this case, the design is not limited to the visuals and slides. You are also the designer of your brand and training programs.
Proper & efficient training programs must have good outlines and a learning objectives section. The objectives section will clarify what the training is about and what students will learn for the clients and allow you to measure student progress, results & overall efficiency of the program. A good outline will serve as a strategy for achieving the learning objectives.
A proper design, on the other hand, will make the material visually more pleasing to look at, as well as easy to understand.
Instructor as a facilitator
You are a facilitator of the program, and as a facilitator, you must ensure multiple aspects of quality, including sound, visuals, material, and engagement. Focus on the students and enhancement of their learning experience.
Instructor as a guide
Keep in mind that you, in a sense, the instructors are also people who must guide the students toward the program. You must answer any questions they have, clarify things, and, if necessary, explain a concept once again. This is not a classroom setting just to get done with the class; this should be a professional virtual training program.
Instructor as a motivator
As a virtual instructor also study multiple motivation techniques to implement throughout the training. One of your key roles is to keep students motivated to learn.
Instructor as a co-learner
As a virtual instructor, you must be a good learner. Be open to listening to your students and their feedback to improve as a professional as well as improve certain aspects of your training program.
Do not be ashamed to learn something new from your students, and be open to new knowledge as you try to open them up to it.
Also, remember that a virtual instructor's major role is to create a friendly atmosphere where students are motivated to communicate and learn.
Skills that Virtual Instructors must have
We have reviewed the key roles of a virtual instructor. However, to perform these roles, you must be equipped with certain skills.
Here are the main skills that a virtual instructor must have:
Time Management - your training must have a clear outline and time frame so that you cover all the aspects that must be covered and don't lose focus along the way. Besides, you will need time management skills to optimize working processes and enjoy your life.
Communication - this is a quite obvious skill anyone in the teaching industry must have. If you manage to establish good communication, you will increase your chances of getting positive reviews and publicity, as well as keep students motivated along the way.
Give constructive feedback - this one is a skill, yes. You should not judge or make students feel that their efforts are not enough. Instead, you should be able to give constructive feedback that pinpoints areas lacking progress, alongside areas that are good to push students forward.
Of course, there is a whole list of other qualities and skills that you must obtain as an effective virtual instructor. However, the ones listed above are the major skills you need to get started.
Techniques a good virtual instructor uses
Effective virtual instructor makes sure to use multiple techniques that help them to enhance the learning process.
Ensuring that your training experience is next-level in this competitive industry is vital.
Choose the learning technology
So, first of all, you must choose the technology to utilize throughout the learning process. This includes a platform, camera, microphone, various online design tools, etc.
Platform
There are multiple platforms available for virtual instructors, course creators, and coaches nowadays. You just need to choose which one works best for you.
If you want a platform that offers mull automation and maximal features to build a website without coding skills, plus ensures SEO-friendliness, then consider Uteach.
Other feature-rich platforms include Thinkific & Kajabi.
You might also consider building a website from scratch with WordPress or Wix. However, that will be quite costly and time-consuming.
Camera & Microphone
These two are a must because you must ensure good sound and visual quality if your courses are pre-recorded.
If you host live lessons and show presentations through screen sharing, then you can simply locate yourself in a quiet room. Most modern laptops and computers have good built-in cameras and microphones to ensure sound & audio quality. However, do some testing before the session, just in case.
Tools
Finally, you should decide on the tools you will use. For instance, if you want to create good visuals and presentations fast, then we can recommend Canva for Educators. It is an incredible tool that offers millions of ready-to-use templates and many other features to build various design materials from scratch.
Plus, Canva will be useful if you include group projects in your training. Your students can join in groups and work in real time on a presentation or other graphics.
Also, if the platform of your choice does not offer enough integrations or sufficient communication means besides email, then also consider using Slack for effective communication.
If you work on creating your online business with a team, a great time & project management tool would be Trello. For alternatives, here are some best free project management software.
Create engaging slides
Most of us are visual learners, so do not underestimate the power of engaging slides.
Make sure that the slides of your presentation look good, have good colour contrasts, and at the same time look modern & minimalist. Keep in mind to use animations when changing slides to make them more interactive.
Also, consider implementing various gamification tools, such as a quiz or poll that users can fill out when hosting training with slides.
Implement virtual icebreakers
Do not forget about virtual icebreakers. Long training sessions in this era where attention span is quite short, and you have few seconds to catch it, keeping it and students engaged can be hard.
So, to make sure that students are not bored, implement various virtual icebreakers, which can be stating a funny fact, showing an industry-relate meme, or even asking a question.
Encourage participation
Encouraging participation is one of the most efficient techniques to implement throughout the virtual instructor-led training session to encourage learners to be engaged. When you encourage learners' participation, you ensure that your students are engaged.
Plus, it enhances their learning experience and allows you to check whether or not learners acquired the material delivered.
Set realistic goals
Another technique that good virtual instructors implement to ensure the success of the training is Setting Realistic Goals.
Goals are a vital part of any training, and actually, you should include them in the outline of the training material in the "Learning objectives" section. First, this section will help potential students decide whether or not they need the course. Secondly, this section can be a powerful motivator to purchase the course.
However, setting goals is not just vital to clarify things; it is important to motivate one to spend time with purpose. The training goal should be Specific, Measurable, Achievable, Realistic, and Time-specific. Basically, they should be set through the implementation of the SMART goal-setting technique.
Having goals will also allow you to measure progress and results.
Be creative
Getting creative is another technique that will help you enhance your students' learning experience.
The thing with virtual training is that you have unlimited opportunities to get creative and use innovative approaches. You just have to enjoy what you do and know the bigger purpose of doing that.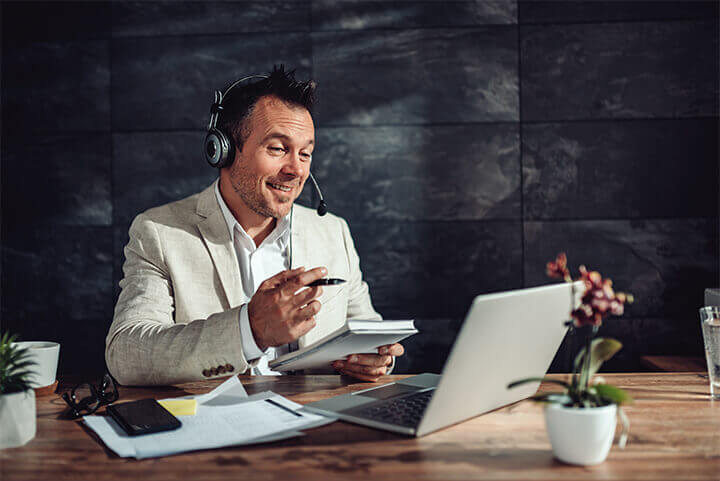 Yes, this is a scalable industry. But money won't be a huge motivator after a while. If you choose to be a virtual trainer, you must love everything and be motivated to commit to your work.
Things to avoid doing as a good virtual instructor
Now that we are clear on roles, skills, and techniques, it is time to take a look at things you must avoid if you want to be an excellent virtual instructor.
Number 1 - Being Judgmental
If you judge and criticize your students all the time, you will not be able to motivate them to learn further or leave a positive review about the training.
Instead, focus on motivating what they will gain if they commit to learning the training material. And provide them with constructive feedback on what they can improve to get better results next time.
Number 2 - Using only Zoom
Believe me, if you use only Zoom for the sessions, it is going to get messed up. Spend some time to learn utilizing other tools to ensure the delivery of high-quality training.
The most time-saving yet effective way is to choose a learning platform that offers zoom as an integration to host live sessions.
Number 3 - Leaving students out in the open
These students chose your training for a reason, so spend some extra time answering their questions and guiding them properly to ensure the efficiency of the training and the satisfaction of customers.
Need help in your journey?
Uteach is a great platform to start your virtual learning business with and continue expansion according to your business plan.
It is potent automation that comes in handy with a website builder, course builder, end-to-end live functionality, and all the other tools to start and manage a successful e-learning business.
It is an extremely affordable platform that allows you to manage marketing and payment-related aspects of your business from a single & easy-to-use dashboard as well.
So, if you need help in your journey as a virtual instructor and want to get started right away, then Uteach is for you.