In many fields such as entertainment, education, and training programs, videos have grown increasingly popular and more preferable. Therefore, it is vital to ensure high and outstanding quality to stand out on the market.  
 
In order to create astonishing training videos, keep in mind that a good camera is not the end of the deal; you also have to do the right editing. In this article, we will review the Top 10 Best Training video Software in 2023. 
So, if you are ready, let's start! 
#1 Camtasia
Let's start with the first platform - Camtasia. Camtasia is created by TechSmith and is a Screen Recorder & Video Editor simple yet powerful software. Moreover, this software is available both on windows and mac.  
 
With Camtasia, you can create everything, such as:
Video Tutorials or so-called guides 

Training videos that will fully equip the students with knowledge & skills provided in a specific niche 

Screen-recording tutorials

YouTube videos

Video lessons & various explainer videos

Training & Software Demo videos 

 
 
And, of course, all the other forms of videos you can use on your website for educational purposes. 
Main Features
So, the primary features of this software are: 
 
Templates & Themes. Camtasia comes with various templates & themes that are ready to use and will improve your overall company branding of yours. 

Packages. With this feature, you will be able to share templates, libraries, themes, shortcuts, etc. 

Favorites & Presets that allow to access saved tools or presets instantly

Transitions and Annotations

Interactivity + Quizzing: This will help you to measure the learning progress plus make your videos even more interactive. 

Web Camera Capture

PowerPoint integration which allows you to

turn presentations into videos

Audio/music

Cursor FX - allows you to perform various editing actions with the motion
Benefits
Now, let's take a look at the benefits you will gain if you choose Camtasia as your video training platform: 
 
Quick Start. Due to an amazing and user-friendly interface ethos platform is extremely easy to start off with and won't require lots of your time & effort in the learning process. 

Feature-rich. The platform offers each and every feature needed to create an amazing video. 

Boost engagement rates: Most viewers prefer video content. So, by providing high-quality videos using Camtasia, you will increase the chances of boosting engagement on your website. 

 
 
Also, some of the big companies that use Camtasia are Apple, Amazon.com, Microsoft, Google, and Chase. All of these definitely speak about the reliability of the platform.  
 
#2 BIGVU TV
The second platform on our list is BIGVU TV. Actually, it is one of the largest video software for creating various types of videos. The slogan and primary promise of BIGVU is "Turn Video Editing into Business." 
With BIGVU TV, you can create any kind of video for any company, or industry, such as teams, marketing, coaching, real estate, mobile journalism, and online courses. For instance, if you plan to capture online courses, it allows you to plan the content, record, trim, combine and easily style your course videos.  
 
What are the features that made it so popular?
Main features
So, the main features are: 
Teleprompter. This will allow you to read the script while shooting the video, therefore saving a great deal of your time on reshoots. 

Branding & various other styling options 

Landing pages for the videos 

A magic crop that automatically reframes the video 

Replace green screen 

 
 
Benefits 
Studio in your pocket, and astonishing all-in-one software 

Assists you in increasing the engagement rates

It lets you read your script while recording

 
 
However, more than 6 million businesses of all sizes use BIGVU TV due to its amazing functionality and reliability.  
 
#3 Powtoon
The next platform is - Powtoon. Powtoon is a powerful video and animation maker tool. This tool's promise is that you will get the chance to create Jaw-dropping videos and presentations. And, so far, this tool is perfectly keeping its promises. 
 
Powtoon is an astonishing video creation software, especially for students and teachers. However, besides education, you can also use the tool for various other types of videos, e.g., for HR, marketing, and internal communication.  
 
Main Features 
Animated Videos. With Powtoon, you can create animated videos and choose ready-to-use templates to do so. There are presentations, whiteboard templates, and a wide range of other templates available. 

The Video Messaging feature makes communication faster and clearer. All you need to do is to record, enhance then share. 

Character Builder allows you to create branded and personalized characters for your brand. It will allow you to diversify the characters associated with your brand and promote the idea of inclusion, and generally is more engaging than characterless videos. 

PowerPoint to video. All you need to do to turn a boring presentation into an amazing animated video is to upload it and make all the necessary adjustments. 

 
 
Benefits 
100+ ready-to-use templates that save your time: All you need to do to get started is to register, choose the template, make all the customizations needed, and DONE. 

Easy-to-use 

No editing or coding skills needed

Free animated video maker 

 
 
Also, it is worth mentioning that this tool was used by companies such as Microsoft, Google, Coca-Cola, Pfizer, eBay, etc., which indicates the reliability and credibility of the platform.  
 
#4 Clipchamp
Clipchamp is a free video editor that allows you to create astonishing videos. Clipchamp comes in with lots of beautiful and useful features. Also, it is worth mentioning that this platform is now part of Microsoft.  
 
As an online course creator, it will allow you to edit your video, making them far more engaging, interactive, and of better quality, absolutely for free.  
 
Main Features 
Video editor. Clipchamp's video editor is extremely beginner-friendly. All you need to do is to add the files to the editor, drag and drop all the images add the audio, and save the file when you're done.

Templates. The platform provides you with free customizable templates that you can use for your new projects. The choice is quite big; for example, you can find templates for videos of pretty much every kind.

Stock library. And if templates are not enough, you can choose from the library of pre-recorded stock footage and audio tracks. There are more than 800,000 clips, and due to offering a powerful search engine, you can find footage that will suit your project.

Camera recorder. Using Clipchamp, you can record via your webcam directly from the platform and immediately access it in your browser.

Screen recorder. Clipchamp offers you a screen recorder as well as an option to record the screen and webcam at the same time. 

Text to speech. With the power of AI, Clipchamp turns your text into a voice, saving you time. 

Video Mems & Music. Add a bit more life and jokes to your videos. 

 
 
Benefits 
Beginner-friendly user interface. Also, it provides simple guides that assist you throughout the whole process. 

Creative and handy solutions. Many interesting features will help you to save time and effort or make your videos more smooth and more professional, like the Text to speech AI feature and simultaneous recording.

Affordable. Clipchamp is cheaper than most video editing platforms. 

 
 
#5 Vimeo
The fifth platform is - Vimeo, surely, many of you have already heard about it, and it definitely deserves the attention and hype around it. Vimeo is a world-class, all-in-one video solution that is perfect for video marketing, employee communication, and of course, video monetization. 
Main Features 
So, the main features are: 
Interactive video. Using Vimeo, you can make your video more interactive. Vimeo offers interactive elements such as popups, follow links, and others. This feature will create a unique user experience allowing you to stand out from the rest. 

Live Stream. In case you want to LiveStream, then definitely host it with Vimeo, as Live Streams powered by Vimeo do not affect quality. 

Screen record. Screen record your videos for better performance of your team. All you need to do is install a Chrome extension, which won't take you more than a few seconds.

Create from templates. If you want to create a professional-looking video without spending too much energy and time, then Vimeo's pre-made customizable templates are definitely for you. 

Hire a video pro. You can hire professional video creators from Vimeo. 

License stock footage. To further enhance and speed up the video-creating process, you can use the ready stock footage that Vimeo offers. It provides you with an opportunity to choose from hundreds of themes and clips.
Benefits 
Multifunctional. Vimeo is both a video hosting platform and a builder. It allows you to create high-quality, interactive, and, most importantly, professional videos. 

Saves your time. The platform provides tools that will help you save time and effort with pre-made templates, stock footage, and a user-friendly video-builder. 

Inexpensive. Even the most expensive subscription plan for Vimeo is affordable. Besides that, it offers a free option and a 30-day free trial.

 
 
Vimeo also integrates seamlessly with popular platforms such as Facebook, TikTok, WordPress, Asana, GoDaddy, and others. 
#6 Vyond
Vyond is a potent video animation software that gives you an opportunity to create dynamic and high-quality videos. The tool is completely cloud-based, and anybody can use it to create gifs, videos, animations, etc.  
 
This platform is great for those who want to use videos for education, marketing, HR, and many other purposes due to the broad functionality and editing options available.  
 
Main Features 
Video templates. To test the water, you can use Vyond's free templates that have ready backgrounds, characters, objects, and animation. 

Text to Speech. Using AI technology that is built on real people's voices allows you to convert text to speech and sound more real (as some text-to-speech tools sound too artificial). 

Speech enhancement. You can edit the audio files in order to get rid of all the background noise and other stuff that reduces the quality of the video. 

Media library panel. With the media library sidebar, you can quickly access used media materials, like characters and props.

Vyond Mobile. You can watch and upload videos directly from your smartphone using the mobile application. 

Visual content search. Like Google Lens, you can find a visual media file just by matching the appearance.

Automated background removal. You can automatically delete the background of an uploaded picture and proceed to use it as a prop in your animated video.

 
 
Benefits 
Synchronization of animated character lips to the audio

Modern-looking and tasteful video clips, icons, characters, and backgrounds 

Vyond is the best animation platform on G2, with strong ethics and community support.

Positive reviews. Vyond has a huge community, plus lots of positive customer reviews, that indicate the software's high quality and good performance. 

Beginner and User-friendly. With many templates and ready media files, the platform is easy-to-use both for beginners and more experienced creators. 

 
 
Also, the pricing plans it offers are affordable.  
 
#7 Wondershare Filmora
If you were trying to find the easy-to-use and maximum beginner-friendly video editing software, then Wondershare Filmora is for you. With this simple but quite powerful tool, you will be able to push storytelling boundaries and provide visual content that your audience wants.  
 
Moreover, due to offering so many features and still remaining simple in usage, this is one of the most time-saving platforms for online course creators. 
Main Features 
Visual effects & transitions. Choose from hundreds of visual effects and transitions to enhance the user experience, and make the most memorable videos. 

4k resolution. The platform supports 4K resolution videos and allows you to work with heavy video files alongside rendering your videos to achieve the best video definition. 

Stock Footage library. Filmora also offers a large footage library, resources from which you can choose and add to your videos. 

Picture in picture

Green Screen. Suppose you use a green screen, then this platform will definitely work for you. It allows you to add any background to your green screen, and the end result looks very accurate. 

Background removal. This is another feature that Filmora's AI technology allows you to do; the most noticeable part is high accuracy. 

Video Stabilization

Color correction will give you an opportunity to play around with the color and contrast of your videos in order to make the final material look more polished and professional.  

Subtitles. Filmora supports SRT files, which means that you can easily add subtitles to your videos.

 
 
Benefits 
Quality. Filmora gives you every feature and functionality necessary to achieve high-quality in your videos. 

Additional materials in the form of footage, audio, pictures, and even animations

Powerful AI that saves your time in many cases, such as in the case of transferring text-to-speech or speech-to-text. 

 
 
#8 Adobe Premiere Pro
Adobe Premiere Pro is one of the most famous and professional video editing tools available out there. This tool has earned its reputation throughout the years and, till now, remains at the top of its field.  
 
Adobe Premiere Pro is timeline-based editing software that offers features and tools that ensure the high quality of the final product. 
Main Features 
Motion Graphics template. This platform offers a motion graphic library and an opportunity to browse and choose the best templates to create animated graphics. Via drag & Drop editor, you also will be able to make all the necessary customizations with the templates. 

Audio. Adobe Premiere offers a whole bunch of features for perfect audio, including AI tools. Basically, you can search for pre-recorded stock music, add it, and use audio ducking to adjust the volume. 

Color correction. If you want the final video to look like it has been shot and edited by a professional, then the color correction tools this platform offers will satisfy you. 

It also offers a speech-to-text converter to speed up the process of converting speech-to-text 

 
 
Benefits 
This platform is Professional, which is obvious even when looking at the features in the most basic aspects of video editing. By the way, it is widely used by famous YouTube and Course Creators. 

Software integration that helps teams collaborate more efficiently, creating an easy workflow. 

Good user interface. If you are a beginner, with the help of a few free tutorials, this tool will be easy to master. 

Supports multiple file formats 

Creative freedom. Adobe Premiere Pro provides you with everything necessary to experience creative freedom, edit and customize anything you want, and create high-quality materials.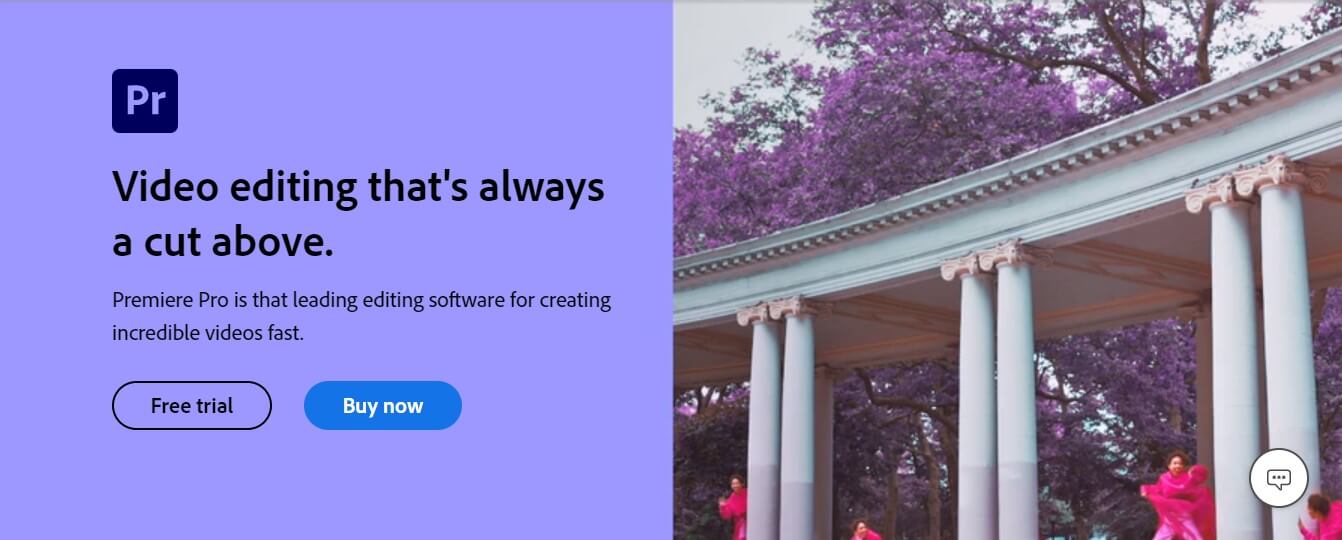 #9 Final Cut Pro
Indeed, many of you have heard about the Final Cut Pro, and I think it also deserves to be on the list of the best. First of all, it offers plenty of necessary and useful functionality, has excellent recommendations and a public reputation, and also it comes with plenty of benefits.  
 
It was created by Macromedia Inc. and later developed by Apple. Now, Final Cut Pro ensures and guarantees the most advanced organizing and professional video editing tools. The latest version of Final Cut Pro gives you an opportunity to download and use it absolutely for free for 90-days. 
Main Features 
Easy creation of new projects & import of media files 

Trimmed clips can be added to timelines 

Add text, titles, transitions, effects 

Audio & Music. You can also add audio or music to the video. 

Color correction is another feature that Final Cut Pro provides you with, which is also especially useful in case you want to look better on camera, and create a more professionally edited video. 

VR Handling that offers the 360-degree viewer 

Share & Export 

 
 
So, Final Cut Pro offers simple yet powerful functionality and is widely used by professionals. 
Benefits 
Seamless video editing due to magnetic timeline

Multicam editing

Ready-to-use motion graphic templates 

VR Handling tools that come with this platform will allow you to edit VR worlds to create immersive experiences. 

Fast. Even though it offers quite powerful tools for various types of heavy video editing, it still works impressively fast. 

 
 
#10 WeVideo
Another platform on our list that deserves to be here is WeVideo. WeVideo allows you to easily create and edit videos like a Pro, use built-in stock content, and create anywhere (due to being available for usage on multiple devices).  
 
WeVideo is great for businesses, schools, and nonprofit organizations. Also, it has over 30 mln users. That parameter indicates the reliability of the tool. 
Main Features 
A free online video editor that will let you make professional videos in a matter of a minute

Customizable templates for Professional Looking videos

Screen Recorder will allow you to record whatever you want whenever you need it and make the collaboration with the team or creation of the how-to video tutorials a lot easier. Also, with this feature, you can screen record both with and without audio. 

Green Screen. With this feature, you can edit the green screen and add multiple effects or pixel-accurate backgrounds so that no one will even suspect the green screen you've been using. 

Meme Maker. Once again, add more jokes as an ice-breaker 

Add text to the video & Add audio to the video 

Video Merger tool gives you access to merging multiple videos, images, audio, and more. 

Video trimmer that assists you in cutting  down the length of the video in a matter of seconds 

 
 
Benefits 
Easy to use & Flexible. Due to offering a nice UI, it is quite easy to navigate through and create multiple format videos. 

WeVideo offers more than 1 million pieces of stock media with an impressively large amount of available stock content. 

Works from any device. 

 
 
Moreover, WeVideo is a Google for Education partner, Microsoft Education Partner, and has been awarded as a Top Pick for Learning from Common Sence Education.  
 
#11 Animaker
The last platform on this list is Animaker, a DIY video animation software. Animaker is a cloud-based platform that brings studio quality to everyday life.  
 
With the easy user interface and wide functionality, you will be able to create professional videos and animations. 
Main Features 
Large video asset library where you can find animated characters, videos, icons, images, BGs, and even properties

Character builder is a professional tool to build characters and choose from more than 15 facial expressions and ten accessory slots.

Auto lip-sync technology (will greatly save your time) 

Smart Moves. This is an amazing feature that saves lots of effort and time, as most of the time animators spend on animating moves; meanwhile, here you have smart moves that do it for you. 

 
 
Benefits 
Runs on powerful HTML5 that gives you a seamless video editing experience 

Professional templates that are highly customizable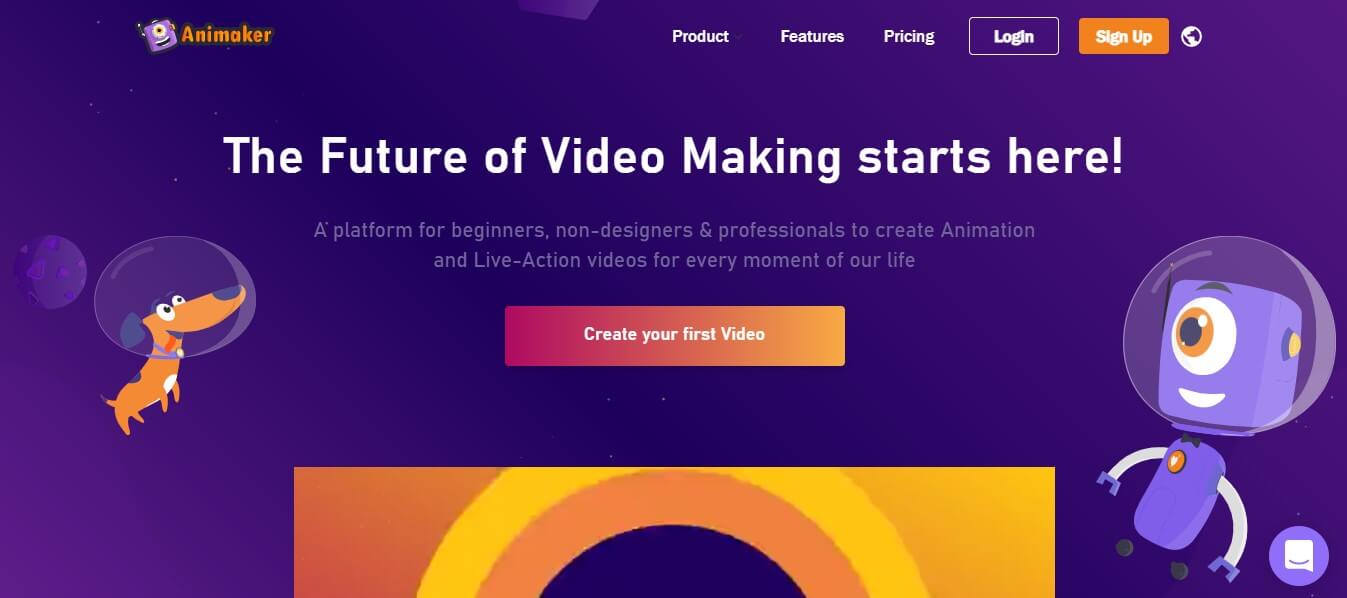 Let's Wrap-it up 
So, at the end of the day, no matter which platform (video editing software) you choose, you can definitely be confident in your choice, as we did up-to-date research and testing before we came up with this listing.  
 
Each platform in this article is worth the hype around, as they offer amazing functionality and help you bring the craziest video ideas to life.