The general goal of any kind of business is to have an audience who is interested in your brand, products, or services. This audience isn't just a group of people but a group of potential customers who are more likely to make use of the services your offer and provide income.
Probably there are thousands even millions of people who may be considered to be included in your target audience group. However, from time to time, we arrive at a point when we feel a lack of customers.
If you are reading this article, then you have also faced such an issue. And that's why I am here. For this time, I have made detailed research on reaching the target audience.
Tips to Build an Audience
The quality of your real customers is very important but the size of your audience is essential, not less. A wide audience, who is engaged in your content, is a promoting factor to multiple your visibility, to increase brand awareness, and why not, become your customer. Below, I am going to introduce the top 12 expert tips to build an audience. Sounds interesting? Then come on!
#1 Have a Clear Image of Your Audience
Your success largely depends on your approach towards the potential audience. And, in order to make it preferable, you need to learn the exact behavior and preferences of your audience. Accordingly, you will learn what to do to increase satisfaction and why not ensure future sales.
In the business world, the audience group is generalized to one person - the buyer persona. This is a collective figure of a large group. In the teaching industry, this buyer persona covers all the potential learners. So, in order to attract and satisfy the buyer persona, you need to know them, their pain points, imagine their behavior, and make a clear image of their expectations. Then go on!
#2 Regularly Publish Compelling Content
Once you know the expectations of your audience you should focus on creating content that attracts them. Keep in mind that currently, the internet is overfull of content. However, people worry about the quality. They look for trustworthy sources worthy to rely on. So, why don't you want to be one?
You need to share quality content, no matter text, video, image, or something else. And you need to do it regularly with at least weekly updates. In the field of online teaching, this may be some educational material, informative videos, engaging articles, etc.
If the audience knows you provide value, they will regularly check your platforms in order not to miss any point.
#3 Subscription Forms
You may create and display subscription forms on your website. They may have either fix places on one or more pages or appear on modal pop-ups. The aim of such forms is to gather a list of your audience.
With this form, you may ask for their email in order to send, for instance, your latest ebook, a to-do list for a specific purpose, or keep them aware of any available update.
Keep in mind that people give their info, in this case, email address, if they get something valuable in turn. You should think twice: what does your audience pay more attention to? Offer them something valuable enough to get emails.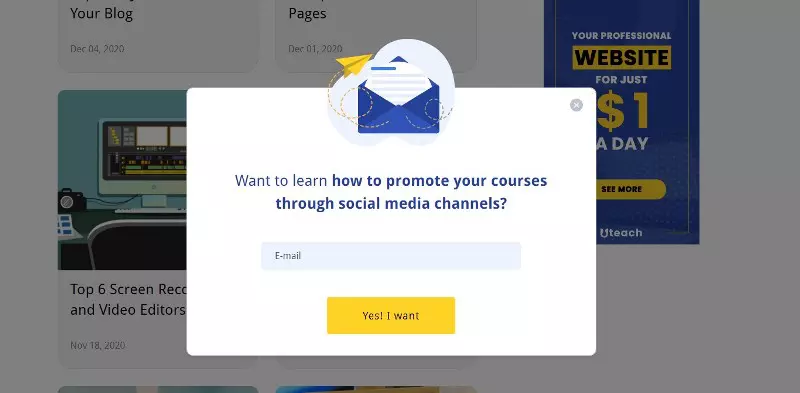 Having a list of interested people in your business, you may start email marketing. Send interactive emails from your business email account, from time to time. Present new services or products, highlight advantages and keep them to the point. In the teaching sphere, you may send informative blog articles, keep the students aware of new video courses, upcoming live lessons, etc.
If you regularly keep in touch with them, some percentage will become real customers. These email campaigns may also be set up through one of the various tools that make the process automated.
#4 SEO
SEO (Search Engine Optimization) will help your business website to appear on search results when potential customers look for what you offer.
What else may be more effective rather than reaching the people who look for your service?
Having an SEO optimized website will help you be outstanding in your competitors' pool and to reach the audience regularly. Of course, website optimization is not a one day task. It takes time, research, and patience. However, once you reach results, success comes to you on its own.
The most essential point to focus on is to keep your content original, qualified, as well as related to the terms people look for. If not, the visitor will immediately leave your portal, having a bad impact on it and making a negative opinion about your business.
#5 Publish Free Courses
As we have already discussed, people feel a lack of quality content. We know that visual content is much more preferable today so that online video courses may be widely spread.
Especially if you are in the online teaching sphere, you may create and present free courses about how to do something. Take into consideration that the more required the course topic is, the more number of people will land on your page to watch your free courses.
Let me introduce my real-life example. When the COVID_19 pandemic spread all over the world, various platforms offered free courses. One of them was MOZ. I passed several courses and got a positive opinion.
Some times later I met a paid course on their platform. I was interested in the topic and as I know they provide high-quality content, I bought it.
From my experience, we may come to the point that probably, people don't know how valuable your services are. Give them a chance to check out.
#6 Use Social Media
These days, it is easier to find people on social media channels. Create social media pages for your business on Facebook, Instagram, Twitter, Linkedin, or whatever channel you find appropriate to your brand. Firstly consider where your potential customers are more likely to spend their time.
Be careful while creating your page. Many people confuse business pages with personal social media profiles. Once you create your page, you may share interactive content related to the interest of the audience. Ask them questions so that they engage in and write comments, like, and share your posts.
Accordingly, the visibility of your page increases, and more people learn about your services.
On social media platforms, you may use tags to gain new followers. Even if the person doesn't follow your page, they reach your content if they follow the tag you mention.
You may also share your interactive content in various groups and reach all the group members. But before, make sure your post is related to these groups' content and doesn't break their rules.
#7 Facebook Ads
Facebook is a huge platform. Here you may find people of various interests. So, some art of your potential audience is also here. You may avoid missing these people if you create Facebook ads and target them.
Even if they haven't happened to meet your services before, you may target them according to their interests and the advertising post will be shown.
Businesses make use of advertising services during special offers and sales. If you offer something free with a product or people learn they pay less than the original price, they are more likely to take the action.
#8 Google Ads
This is another version of advertising. If there is no chance to appear on the first results of a search engine and you want to do it in an alternative way, you may rely on Google Ads. This is an advertising portal to organize and run campaigns.
Searching for your services, people reach your advertised page and make purchases. Google Ads offer a few types of advertisements:
- Search ads (ads on Google result pages)
- Display ads (banners on Google partner websites)
- Video ads (ads through videos on YouTube and other websites)
- Application ads (ads on different applications)
In this regard, your ads may appear not only on search engine result pages. You may display banners on websites your audience is likely to visit, or on apps, they tend to use. As for video ads, they are also very effective to reach the target audience.
Many people are afraid of wasting money on ads. Keep in mind, if you spend money on the right advertisement to the right target, then your spent money will be at least doubled.
#9 Organize Webinars
People like to follow discussions and learn something new. You may organize webinars and if possible on your platform. Let your active audience informed about the upcoming webinars in advance. Surely, they will tell some friends and the number of participants will grow.
You may ask people about their pain points so that you provide solutions during the webinars. This will also engage them and arise interest.
Have the process planed so that you know what to do, what to speak, and what to focus on. In this way, you'll seem more professional and confident. And accordingly, you'll become a trustworthy specialist, whose opinion is important for people.
This webinar may also become a live discussion. People give questions or present their concerns, and you provide solutions, give pieces of advice or recommendations.
#10 Generate Backlinks from Related Platforms
Backlinks are links of your website pages inserted on other platforms. You may cooperate with website owners and ask them for such links. Of course, choose websites that are related to your niche and your potential audience is likely to visit.
If you have backlinks from such related platforms then some percentage of their visitors will be directed to your portal and learn about your services. If your offers satisfy them, you will gain loyal followers.
Besides, having backlinks from other platforms, especially authoritative ones, has a good influence on your website optimization score, domain authority, and rating. So, by generating backlinks, you may also increase your SEO status.
#11 Come Up with Video Content
Using videos is a fantastic way to increase visibility and reach more people. The fact that YouTube is the second largest search engine is proof of this. People like to watch videos as learning something through videos is enjoyable and easier, no matter it's about a professional skill or the latest news.
You may offer YouTube videos on specific topics, and use YouTube Card to mention your website. This pop-up helps to direct the people (who watch your YouTube videos) to your website.
Linking to your website, you quickly convert a new viewer into a lead, and why not a real customer. Besides, in this way, you may use these videos to gain continual leads even for years.
#12 Build a Relationship
Create a specific language - a style you communicate with your audience. Ask them questions and engage them in communication. Organize contests and give small awards. Create polls on trendy topics and start discussions. Make people feel they communicate with a human being, not a robot.
These days, there are so many bots and automated systems that people are more interested in getting in touch with humans.
From time to time, you may also share some personal information, such as your success story, challenges, failures, or how you make that decision, for instance, to teach online.
Answer to every comment people leaves or every message they send. Provide them with a satisfying answer or thank them for nice behavior. The most essential is to keep transparency.
In this way, you let them feel important and appreciated. Such small points make you closer to the audience and establish a firm connection that lasts for years.
To Sum Up
Whatever tip you choose to build an audience, keep in mind one thing: "Make it about them, not you". People don't like to know what you do. They are more likely to know what they will get from it.
Offer something valuable and the potential audience will find and follow you in order not to miss your valuable content, products, or services.
Keep on the good job!