How to turn your customers into affiliates
Besides becoming a Uteach affiliate, you can also turn your students into affiliates. Affiliates can earn a commission for promoting your services, which can add to your overall revenue. Besides, it is an effective way to reach new students.
Let's see how you can maximize the affiliate program benefits with Uteach.
Step 1. 
Go to the Dashboard ➜ Marketing ➜ Student affiliate.
Here you can create your affiliate program. 
Step 2. Turn on the toggle on the right so the students can become affiliates. 

If you want to invite particular students to become your partners, enable the toggle in the Invite affiliates section. After activation, you will see the Add New Member button.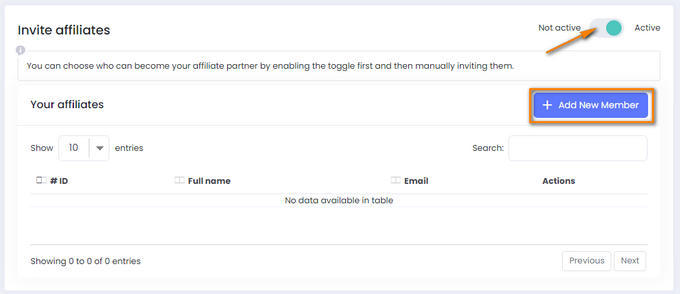 After clicking on it, enter the student's email address and click on the Save button below. 
Step 3. Manage the settings

Next, you can set the following aspects
Commission fee

- this is the percentage your affiliate partners will get as a result of the sales.

The minimal affiliate request

- set the minimum amount the students can request for commissions. 

Generated profit request availability

- set after how many days the student will be able to request the commission.


 
After you finish, don't forget to click the Save button below. 
And, of course, you can keep track of your students' requests with the requested amount in the section below. You can find information about a particular student by using the search bar. 

Now that you have everything ready, students can share the link accessed from their profiles and get commissions. 


If you have any questions about coupons, discounts, or anything at all, send us an email at [email protected] or click the blue icon below to chat 😊