How to connect Google Analytics
Google Analytics Terms of Service Agreement.
Google Analytics allows you to track various metrics, including the number of website visitors, their behavior on the website, conversion rates, and more.

It provides valuable insights into how people interact with your website, which pages are the most popular with the users, and how long they stay on your website. Based on these insights, you can decide how to improve it further, eg., optimize content, make changes in design, and the like.

As you can see, setting up Google Analytics for your website is essential for success.
Steps to set up

Step 1. Go to Google Analytics and click on the button Start measuring

Step 2. Fill on the account setup information.
Enter the website name, read the account data-sharing settings to check, or uncheck the necessary boxes. Click on the Next button to proceed.
Go on with property details by inserting the property name and choosing the time zone & currency. Click on the Next button below.
Next up, we have the business information section. Go on with filling in the required information, and check the boxes when you can relate. Afterward, click on the Create button below.
Step 3. Get acquitted with terms of use and email communications.
Step 4. Create stream. As you have already created a property, access the Web button, fill in the necessary information and click the Create Stream button.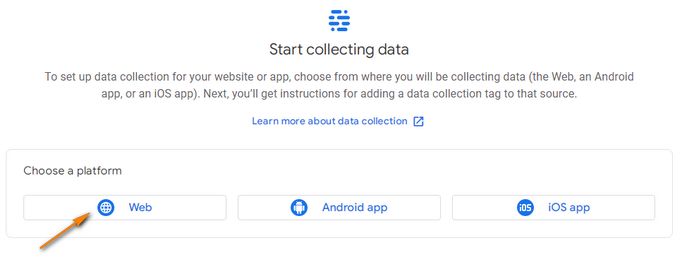 Step 5. Access the tag and insert it in the Header script.
Click on the View tag instructions button and copy it.

Go to your Dashboard, navigate to the Settings tab, and choose the Integrations subtab.
Paste the tag in the Header scripts box and click the Save changes button below.

Congratulations! You just set up Google Analytics for your website.
You can also watch the video to connect Google Analytics to your website.
If you have any questions about coupons, discounts, or anything at all, send us an email at [email protected] or click the blue icon below to chat 😊