There are various types of courses and coaching, and the main difference is that coaching is highly individual-centric. Doesn't it make group coaching ineffective? No, it doesn't! Let me explain why.    
 
This article will cover everything related to group coaching, including definitions, goals, and benefits. It will answer the most common questions related to group coaching.    
 
So, if you are ready, let's start!    
 
What is group coaching, and what is its aim?
First of all, let's start with the definitions and aims. Group coaching is a form of coaching that brings together individuals that share similar goals, or the overall theme of the coaching allows them to do so. It usually involves a coach and two or more individuals. The common aim of coaching is transformation, goal achievement, and assistance in the way of self-fulfillment. However, group coaching also brings in additional dynamics and develops an additional set of skills, including interaction & communication.    
 
The aim of group coaching usually varies; for coaches, the main aim is better time management. If you have many clients that want similar things, you can work with them in groups. Of course, an individualistic approach is needed for everyone. However, it will save time and simultaneously remain efficient for coachees.  
The main benefits of group coaching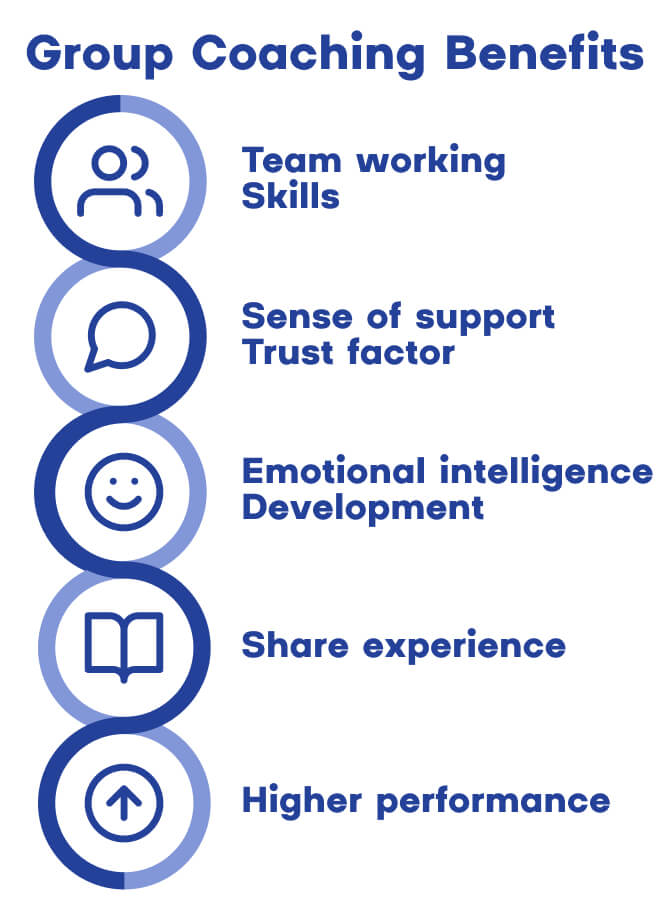 Now, it is time to take a look at the main benefits of group coaching. First of all, let's take a look at how coachees will benefit from group coaching. 
Team working skills. Even though everyone has their goals, they share similar ideas and work in a program to achieve their goals; doing activities in groups, etc., will positively affect and develop everyone's team working skills. 

Develops a sense of support and increases the trust factor. Think of using an

internal company blog

to ensure smooth communication between the members and thoughtful exchange of experience and knowledge among the others. While working in groups, individuals open up faster, they understand that they are supported. When they see someone else's progress, they start to believe in themselves even more, which automatically contributes to their success. 

Contributes to emotional intelligence development. Usually, the biggest struggle of people that causes issues in work, dating, or day-to-day life is lack of emotional intelligence. Group coaching can help coachees a lot in this sense. Because they will develop a stronger sense of themselves, learn to work with others, and show empathy. 

An incredible opportunity to share experience, wisdom, and general knowledge 

Higher performance 
What benefits, though, are there for the coach? Here they are:   
 
Time-saving. Instead of handling 3-4 individuals separately, spending approximately 90 minutes on each, you can organize a group and spend roughly around 2 hours with them. 

Higher-income, which is also predictable. A full-time coach mostly does not have a stable income; you can know appropriate numbers, though. With group coaching, it is easier to estimate income levels. Plus, because you train multiple people at the same time, you will spend less time and still earn more money. 

Easier to schedule. You will be amazed and positively surprised by how easy it is to schedule and manage groups rather than individuals. 

   
 
The difference between group coaching and team coaching
People often confuse group coaching and team coaching. However, those two have completely different purposes.   
The main difference between these two is simple:
Group coaching is individual-centric and helps individuals (although in groups) still achieve their own goals. It helps them to enhance certain skills and professional performance. 

Team coaching is mostly implemented within companies, and it aims to develop individuals' communication and collaboration skills so that they work as teams more efficiently. 

   
 
For group coaching, team-working skills are not in the first position of importance; they rather come as a benefit; meanwhile, for team coaching, team-workings skills are a vital aspect and one of the main purposes of such kind of coaching. 
FAQs about group coaching
I believe it is time to look at the frequently asked questions section for group coaching to avoid confusion and get a clearer idea of what it is about, what skills are needed to become a coach, and what the prices should be. 
What skills do group coaches need?
There are various general and niche-specific skills that any kind of coach needs. However, let's focus on general skills that group coaches need. Those are:   
 
Ability to create shared focus & expectations to make sure that everyone will be satisfied

Ability to focus on individuals as well. Even though it is group coaching, each individual will have their own set of goals, and you have to be able to show an individualistic approach to them as well. 

Communication  - clearly communicating your thoughts in the group setting is essential. 
How long does a group coaching program last?
Group coaching programs usually last from 8 to 12 weeks; it also depends on the coachees' needs within the group. Plus, the time frame depends on how many participants there are because they all need to be equally engaged so that the program gives good results. 
How much does the group coaching package costs?
The general rule that many coaches use when holding group sessions is that they take 30% less from each individual rather than if they work one-on-one. For example, for a beginner coach one-on-one session may cost $80 per hour; in this case, they will take ($56) approximately $60 per individual.    
 
Of course, if you are not a beginner and equipped with internationally accredited certifications, plus experience, you can charge a lot more. 
Top 5 techniques for group coaching
Besides certain skill sets that coaches need to host successful and effective sessions, there are also a variety of techniques they can implement. Let's take a look at what techniques can be implemented for group coaching. Here are the Top 5. 
Visual Motivational techniques
Visual Motivation Tecqhues proved to be extremely efficient, and they keep most people on track, encouraging them to continue moving towards their goals. Visual motivation technique includes exercises and activities directed to visualization of goals, results, etc.    
 
This technique works as it clarifies the intentions for the goal and is a powerful motivation push for the coachee. Part of the exercises for this technique are vision boards, quotations, and stars. The vision board is one of the most popular methods; you need to put everything you want to have in there, that can be money, friends, love, cars, anything, depending on the needs and wants of the coachee. It is vital to concentrate throughout the exercise and ensure that clients are in a focused state.    
 
The stars method is for daily motivation; for any achievement they have, you can encourage them to put a star on their calendar. And quotations that motivate and inspire clients could be printed and put somewhere where they'll casually see them.  
Exercises for Mindfulness
Another technique that can work well in groups is the implementation of various mindfulness exercises so that individuals can focus on themselves as well throughout the process. A popular example of such exercise is guided meditation.
Exercises for practicing Gratitude 
Also, it is vital to explain gratitude's effectiveness and importance to coachees. Any life coaching or life-transformation aimed training mentions and suggests a few activities and daily exercises designed towards gratitude. You can always want to grow, and you will always grow; that is only natural; however, remember to be grateful for where you are now as well. Be grateful to yourself, to the people supporting you, to the Universe. 
Sincere Belief 
As a coach, you must leave all your anger and personal issues outside the session. When you enter the online/offline session with positivity on your mind, it will become one of the crucial, fundamental components of a successful session. As a coach, people are going to trust you, so ensure to deliver the promise and provide effective training. One of the techniques to use is to show sincere belief in your coachees. Express your thoughts, tell them that you believe in them in multiple ways, and keep motivating them. 
Brainstorming
Brainstorming is one of the most amazing techniques you can use in a group coaching session. Ask coachees questions and listen to their ideas, thoughts, etc.; it will help to build up trust and find out more information about each individual to make the further program even more efficient.    
 
However, it is not just about the techniques; you also have to choose the right coaching style for the group. You can read our article on the "11 Coaching Styles: Detailed Definition, Examples, And More" to find out more about the style and choose the best one for you & your clients. 
Best group coaching models
For every type of coaching, various models can be used to achieve maximum results. Let's take a look at the best group coaching models. 
Cohort Model 
This is quite a famous coaching method that almost similarly recreates the traditional classroom experience for the coachees. It's basically about groups starting together and ending together. Its emphasis is on peer-to-peer development opportunities. It aims to leverage the effectiveness and includes individual development plans for the group members. Main advantages that clients will gain if you use this method are:   
 
Opportunity to participate in 1:1 coaching sessions and learn from peers

Gain individual development plans 

Get direct feedback from you aside from the guiding questions. 

   
 
Usually, coaches gather 4-6 coachees for a group, and the length of the training is from 6 to 8 weeks. Each session may vary in duration, but usually, it takes from 2.5 hours up to 4 hours. 
Program Model 
This model requires more technical skills and time spent with the coaches, as you won't have a specific schedule. Usually, program modules include pre-recorded classes and sessions alongside live ones. And this method emphasizes the self-paced learning of the students. So, sticking to an effective and time-saving schedule will be harder. 
Membership Model
This model is basically a mix of Program and Cohort models. Throughout the year, for each training, you can offer limited spaces and specific dates of registration, so clients will automatically form groups by registering for the ones they like. And in this case, even if you offer pre-recorded classes, you still will have an opportunity to organize and manage groups efficiently. Many coaches nowadays prefer this method as it is one of the most automatized. 
How to organize group coaching with 5 simple steps?
Now, it is time to take a look at the practical part of this article. So, how can you organize efficient group coaching in just five steps? Let's get into it! 
Step 1 - Choose your Niche 
To become a successful coach, you must choose a specific niche and focus on it. For example, it can be dating, career, or life coaching. Whatever you choose, make sure to study and research everything about it very well; you have to be an expert in your niche to gain clients' trust and grow your coaching business. 
How to Identify Your Niche? 
So, how to identify your niche? Here are some tips & tricks for you:
What are the areas of your expertise 

What do you like about coaching? What topics interest you? (career, dating, life, etc.)

What is your 

Unique Selling Point

? What differentiates you from the rest? 
Step 2 - Find your Audience 
Then, you have to know your targetted audience. Who are you trying to sell the training to? Why would they even need or want it? When you are aware of your target audience, you automatically will gather an overall idea about the demand and supply and will be able to provide a product/service that they will want to purchase. 
How to Identify Your Target Audience? 
Here are a few tips that will help: 
Conduct market research implementing various methods, including focus groups, surveys, and interviews

Create buyer personas

Validate the idea

to estimate the overall demand on the market for the service/product you plan on offering 

Understand who is not your target audience 

Analyze your competitors & study their audiences

Identify industry trends 

Use tools such as Google Analytics to get more insightful reports on your audience

   
 
And most importantly, remember that you should continuedly revise and recheck this because, in this dynamic industry, trends and demand change extremely fast. 
Step 3 - Choose the Platform 
Another not less vital step is to choose the platform that truly works. Once again, in this dynamic industry, you want to ensure that the platform offers:   
 
An Incredibly user-friendly interface, so you do not have to waste your time finding certain features or doing certain actions

Potent automation features that will help you to automate routine tasks and save a great deal of your time

   
 
The platform of your choice should be easy to work with, and if it offers all-in-one features, that would be even better. For example, if, as an online coach, you choose Uteach, you will get powerful all-in-one automation that even will allow you to host end-to-end live sessions. 
Step 4 - Add testimonials
In this competitive market, no one is going to trust a beginner who came out of nowhere. Of curse, if you are a complete beginner, you will have to come up with other methods of showing your reliability (such as a display of internationally accredited certifications). However, as a coach with experience, it will be an amazing idea to collect and display past clients' testimonials even on a new platform.    
 
We all are social creators and tend to trust others who have gone through similar experiences or tested the same product. If the testimonials are good, it will increase sales of your online group coaching sessions. 
Step 5 - Market Yourself
The fifth step would be simply to market yourself. Many coaches in the same niche also offer online group coaching sessions; what is vital is to concentrate on what sets you apart. Think about and find answers to the questions such as  "What differentiates me from the rest" and "Why should people choose me as their online coach?". 
How to Market Yourself as an Online Coach?
Here are some marketing strategies you can implement in order to market yourself as an online group coach. 
Blog. Simply 

open a blog

on your website and start posting about your expertise, coaching, and other articles that are connected to your niche. This will help you to gain organic traffic to your website and improve visibility, especially if you know how to optimize your articles.

Promote your services on 

social media platforms

. Do not be shy and ask your network to support you in terms of sharing. Also, open separate social media accounts for your business. 

Create online communities and membership websites or join existing online communities. Join communities with multiple coaches. You can share knowledge and gain new insights on the industry trends and methodologies of successful coaching. Also, you can help each other with promotion. 

Email marketing

. Choose a platform that allows you to conduct email marketing, e.g., offers integration with MailChimp. This way, you can have control over your campaign from the same platform where you publish and sell courses, e-books, and training programs. Make sure your email marketing campaigns are personalized and include visuals. 

Podcasting. As an online coach, it would be amazing to have 

your own podcast

; believe me; it's a proven way to improve visibility. 

   
 
7 key tips & activities to make your group coaching more effective 
Now I believe it is time to look at the main tips & tricks that will make the coaching session more effective. They are extremely easy to follow and implement, but their simplicity of those brings powerful results. 
Tip 1 - Set Clear Expectations 
Make sure that all group members are aware of what to expect. Also, explain mandatory policies such as "what is said in the group stays within the group."    
 
Making sure that clients within the group trust each other and have similar expectations from the session, you automatically ensure and, in a sense, get a guarantee of client satisfaction by the end.    
 
It is quite vital because we all are human beings, and if we do not get what we expected, that turns into a disappointment which can turn into bad publicity. And believe me, in this competitive market you will want to avoid bad publicity. So, simply talk to group members one-on-one before organizing them into groups; they also have a talk about expectations with the groups. 
Tip 2 - Establish clear Communication and Trust between Group Members 
If you want your coaching sessions to succeed, then you have to establish clear communication between the group members and you as a coach. First of all, ensure to create a positive and healthy atmosphere within the group. The group members are there to grow. They all share a similar wish to change and transform their lives and mindset to achieve desired goals.    
 
Your first task is to create a healthy atmosphere and ensure that group members trust one another. You should also encourage sharing.    
 
Moreover, implement various tactics and methodologies to stimulate in-group discussions because it directly correlates with the trust factor. 
Tip 3 - Build Trust and a good Client Relationship
When clear communication is established, and group members are able to share with one another and communicate their thoughts without getting anxious, it is time to build trust for a long-term relationship.    
 
Maintaining good client relationships is vital. It will allow you to build a strong customer base and have many positive reviews that will contribute to better brand awareness and public image. 
Tip 4 - Listen
For a professional coach, it is vital to be able to listen. If you want to be able to guide clients in the right direction, you need to listen to them. When you listen to them, you gather a better idea about them, their needs & wants. Also, it gives you a bigger picture. By listening, you will be able to figure out an individualistic approach that will work and push them forward to bring the desired results. 
Tip 5 - Ask the Right Questions
Besides asking the guiding questions so clients can figure out how to overcome certain obstacles, you can simply ask them what they need and want.    
 
Here you can see a set of questions that you can ask your clients:
What do you value most in your life?

What are the characteristics that you are proud of?

What is your main goal, and why is it important to you?

Are you happy? What makes you happy or unhappy?

Do you consider yourself in control of life situations?

What is your definition of success?
Also, a useful exercise you can do with your group at the beginning of the training program is the Wheel of life exercise. Throughout the exercise, clients are provided with a paper with a wheel of life containing 12 main aspects of life and a rating.   
 
The clients should rate each aspect of their lives from the available scale. Then they should choose 3-4 main areas that they want to work on right now.    
 
To come up with good questions, remember the main components. Your questions should:
Stimulate thoughts 

Create engaging discussions 

Be motivating and generate energy that will push clients forward 

Bring to the surface suppressed thoughts or blocks/traumas that need to be worked on
Let's move on to the next tip.
Tip 6 - Make it engaging 
It is vital to make sure that your coachees are engaged in various group activities. First of all, those activities encourage and motivate them, stimulate their brain processes, and are a vital part of any coaching program. Secondly, group activities also aim to build trust and communication between group members. The main benefit is that they make the training more engaging because coaching is not about lecturing. Coaching stimulates and guides coachees towards self-fulfillment, growth, and positive transformation. 
Tip 7 - Ask for Feedback 
Also, do not forget to ask your clients to give you feedback. Believe me; you can grow through constructive criticism and feedback. Besides, you can also get very motivated from good feedback. So, make sure to ask your clients for feedback to have a basis and plan further improvement.
Best online group coaching software
Now, I believe it is time to look at the best online group coaching software available on the net. 
Uteach
First of all, let's look at Uteach. Uteach is an all-in-one potent automation that will help you to expand your online group coaching business easily. It provides you with:   
 
Incredibly user-friendly interface

End-to-end live automation

Drag & Drop visual website builder

Flexible and most affordable pricing plans 

Course Builder tools

Opportunity to open a blog and gain organic traffic

SEO-optimization

tools

   
 
Choose Uteach if you want to build a full-featured business and manage everything from one place. If you want to save your time with Uteach, you can create a website in less than 2 minutes. 
Mighty Networks
Another platform that you can consider as an online group coach is Mighty Networks. With this platform, you will get every functionality needed to build networks and communities. Also, here you can publish online courses that you offer for sale.    
 
So, you can basically bring everyone, including social media followers, together and generate high income through community creation and through offering paid subscriptions/memberships. This platform will work best for you if you already have a customer base.    
 
Noomii
Noomii is basically a directory of coachees. The competition is quite high, but if you offer quality products and training, you will definitely be able to reach your audience and find your clients.    
 
You can register on this platform so that clients will be able to find you from the database. However, the diversity of features is lacking. Therefore, if you want something simple, then you can choose this, but if you want a full-featured and white-labeled business, then Uteach, Thinific, or Kajabi would be a better choice.    
 
Thinkific
One more full-featured course creation platform that also will work perfectly fine for online group coaches is Thinkific. Thinkific offers features that will allow you to create pre-recorded courses, sell coaching sessions and host live training sessions as well.    
 
The main features of Thinkific are:
Course & website builder

Membership site builder

Community

Cohort based classes 

   
 
Simply create your website and start marketing yourself to gain more clients. 
Kajabi
And the last platform on our list is Kajabi. The main features that Kajabi offers are:   
 
Blog creation options

Website Builder

Good user interface

SEO optimization tools

Custom domains 

   
 
So, if you are an online group coach or course creator, then this is one of the platforms that you can go with and stay satisfied. 
How can Uteach help you build a group coaching program?
One of the most amazing platforms that will allow you to start a coaching business is Uteach. Uteach is a full-featured website builder with which you can create a website in less than two minutes. Besides, it offers flexible and extremely affordable pricing plans with lots of features.    
 
If you choose Uteach, you will be able to:
Create and customize your website

Add pages and design them with a visual drag & drop editor

Hold live sessions

Publish and SEO-optimize courses

Have a blog to drive organic traffic.

   
 
It basically provides you with everything needed to start and expand a successful coaching business.    
 
Now, let's take a more detailed look at How You Can Start Your Online Coaching Business with Uteach.    
 
Registration. First of all, register on the platform and choose one of the four pricing plans

. There is also a lifetime option available. However, the most popular plan remains the Pro. 

Make all the necessary Customizations. First of all, visit the Site Builder, and start creating pages, menus, and FAQs, using themes and ready-to-use templates, do not forget to enjoy the amazing process in the visual drag & drop builder. 
In the Branding options, create a white labeled website & courses, add your logos and favicons, also make color adjustments. 
Visit the Learning Content tab, and add all the courses, digital & physical products that you offer. Also, set up Live Lessons settings & create certifications for students who have completed the courses with the easy-to-use Certificate builder tool. 
Start your Blog

to drive more organic traffic and SEO optimize the articles with SEO-optimization boxes. 

Start Sales right away and Successfully Market Yourself by implementing Tips & Tricks from this article!

   
 
You can also check out other articles from our blog for more insights into the platform, coaching, and online learning.    
 
Stop hesitation. It is your time to sparkle. Uteach is with you all the way towards success!